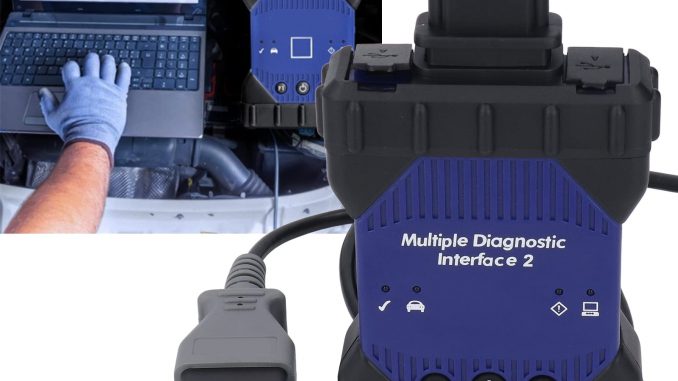 When it comes to diagnosing and repairing GM vehicles, the GM MDI 2 Diagnostic Tool stands out as one of the best tools in the market. This professional diagnostic machine offers in-depth ECU diagnosis for both old and new models through its PC software. With features ranging from basic to advanced, such as error reading, error clearing, and program control systems, this tool is a must-have for any car technician.
The latest version of the GM MDI 2 Diagnostic Tool supports all the latest software, including GDS 2 and Tech2Win, making it compatible with a wide range of GM models. Additionally, it also offers Passthru programming support, specifically Tis2Web-SPS. This upgrade from the previous version introduced in 2007 allows for programmable Pass-Thru on the new GM models.
One of the standout features of the GM MDI 2 Diagnostic Tool is its backward compatibility. This means that it can be used for Pass-Thru programming on all vehicles built since 1996, using the J1962 connector with a DLC cable. The connection between the MDI 2 and PC can be done through standalone USB or network agent CAT5, providing flexibility and convenience.
The design of the new GM MDI 2 Diagnostic Tool is not only functional but also visually appealing. The compact device is covered in a sleek blue casing, with two black impact-resistant rubber tips that make it extremely durable. The USB connection cable ensures stable and faster connections, while the rubber layer protects internal components from damage if dropped. The front of the device features indicator lights that display the working status of the tool.
In terms of specifications, the GM MDI 2 operates at a voltage range of 9-15VDC and can withstand temperatures from -20 to 70 degrees Celsius. With dimensions of 150x200x150mm, it is compact and easy to handle. The tool supports various protocols, including CAN, K-Line, L-Line, SAE-J1708, RS-232C, and UART.
The professional features of the GM MDI 2 Diagnostic Tool make it a valuable asset for any car technician. It can automatically identify vehicles and read their information, allowing for quick and accurate diagnosis. The tool can also read and clear errors, view dynamic data of vehicle systems, activate actuators, and flash new software to correct drivability issues. Additionally, it supports programming and setting up new ECUs, programming keys, and performing various relearning and resetting functions. It also offers standard diagnostic and programming support with J2534.
The GM MDI 2 Diagnostic Tool supports a wide range of GM vehicle models, including Chevrolet, Daewoo, Cadillac, Vinfast (Fadil), Buick, Opel, and Hummer. Its compatibility with Tech2win and GDS2 software further enhances its functionality.
In conclusion, the GM MDI 2 Diagnostic Tool is a top-notch tool for diagnosing and repairing GM vehicles. Its professional features, sleek design, and broad compatibility make it an essential tool for any car technician. Investing in this tool is a smart choice for those looking to excel in the field of car repair.