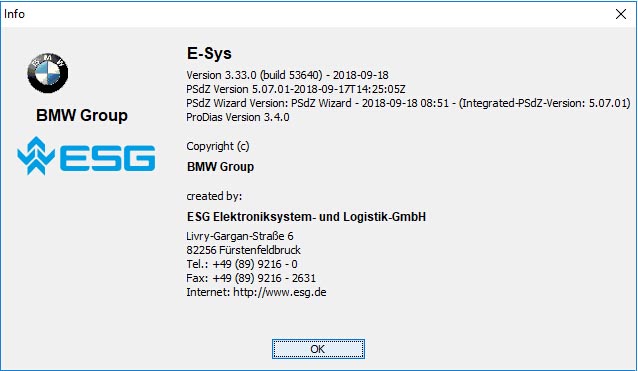 BMW E-sys Coding Software is run on BMW ENET Cable that use to coding for BMW F-Series. You can run BMW E-sys to code for your BMW Car to achieve something more desirable and get hidden functions.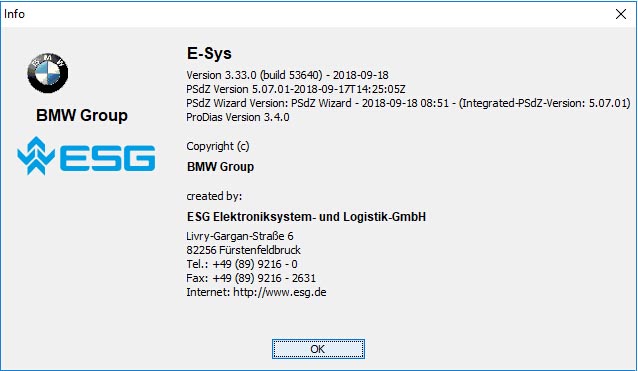 BMW E-sys Coding Car List:
BMW F series , the new 1 Series, 3 Series, 5 Series, 7 Series , GT, X3
BMW E-sys Coding Feature:
* Lock unlock sound confirmation ( to prevent radio interference, add sound to confirm car locked when turn light confirmation inconvenient. This is setup in cic)
* Can operate the navigation menu including watching dvd when driving.How to coding BMW F10 DVD in Motion
* Display engine output and torque meter ( purely fun, look engine output )
* Cancel confirmation screen big screen boot delay
* Open the voice recognition function
* Three kind of bluetooth phone ringtones ( personality only )
* Increasing the cic memory address to 50
* The glass automatically rise to the top process is not terminated by the car door ( easy to get off to close the window waiting )
* The digital speed display ( fun only )
* Air-conditioned memory of the last off state ( without air conditioning season is more convenient )
* Indoor cycling memories of the last time the state when engine off
* A-pillar electric tailgate buttons and remote control a key to close the power tailgate. At any time terminate the reverse operation ( turn off 15 minutes or more reset )
* Increasing shift paddles
* The small screen to the large-screen display modify
* Pdc display vertical and horizontal
* Disable the seat belt status display – passenger seat
* Disable the seat belt status display – driver seat
* Disable seat belt reminder mistake ! The link is invalid. Device – passenger seat
* Disable seat belt reminder – driving position
* Disabled unfasten their seat belts voice prompts – passenger seat
* Disabled unfasten their seat belts voice prompts – driving position
* Intersection vehicle high beam automatic control ( no condition tested. Do not know if it is valid )
* Angel eyes open and cancel functions
24. turn off the engine start-stop function turned on by default
25. gps time synchronization
26. Foot open the back cover
27. Ds show s1-s7 selection
28. Active sports gearbox program sport +
29. Single microphone settings
30. Engine off automatically unlock
31. Internet applications
32. Armrest usb playback video
33. The maximum distance disable front camera view
34. The maximum distance to disable the rear camera view
35. Maximum speed disable front camera view
36. The maximum speed to disable the rear camera view
BMW E-sys 3.33.0 Informations: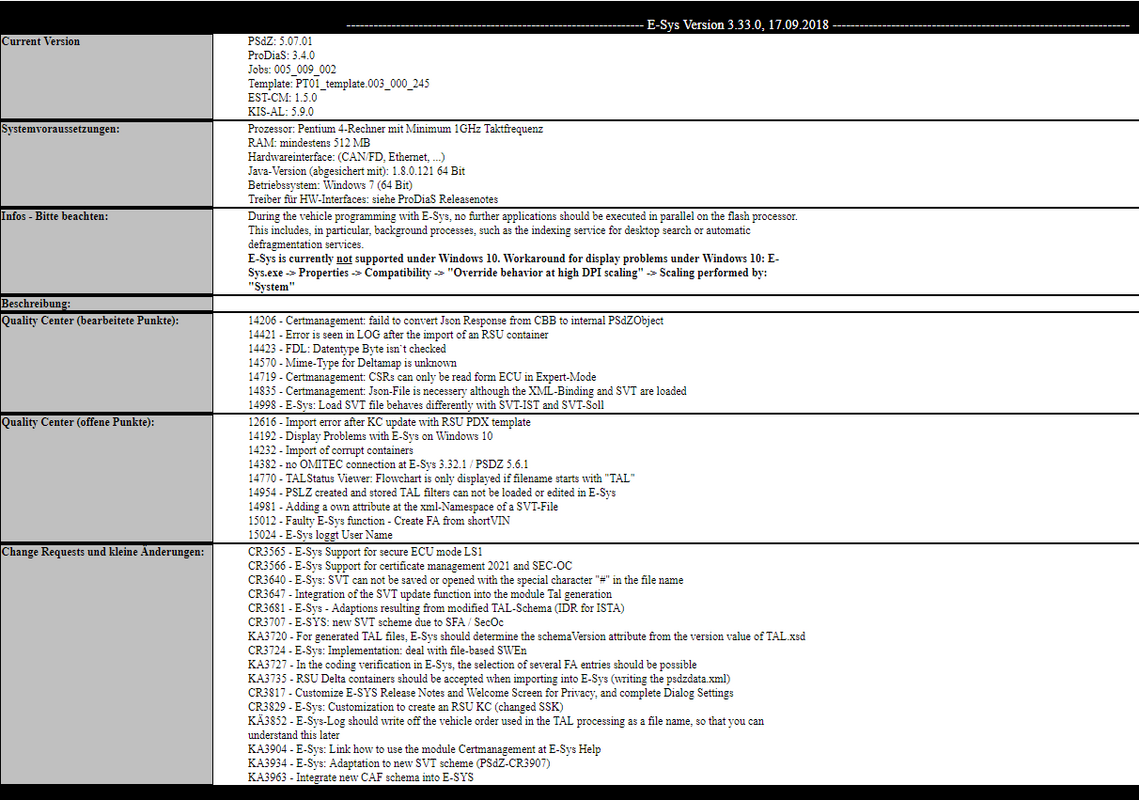 BMW E-sys 3.32.1 Informations:
Current Version:
PSdZ:5.06.01
ProDiaS:3.4.0
Jobs:005_009_002
Template:PT01_template.003_000_0228
EST-CM:1.5.0
KIS-AL:5.9.0
System Requirements:
Prozessor:Intel Pentium 4 with minium 1GHz clock rate
RAM:mindestens 512MB
Hardwareinterface:(CAN/FD,Ethernet,…)
Java-Version(abgesichert mit):1.8.0.121 64 Bit
Operating system:Windows 7(64 Bit)
Driver for HW-Interfces:for details please see information in ProDiaS releasenotes
Infos-Please note:
During the vehicle programming with E-sys,no further applications should be executed in parallel on the flash processor.
This includes,inparticcular,background processes,such as the indexing service for desktop search or automatic defragmentation services.
E-sys is currently not supported under Window10.Workaround for display problems under Window 10:E-Sys.exe–>Properties–>Compatibility–>"Override behavior at high DPI scaling"–>Scaling performed by:"System"
Quality Center(processed items):
14269-PDX-Charger-Removeing of EE-Components from a Container
14271-Coding Verification-Button "Verify All" will not be activeated when using FAs with a single entry
14278-During process of writing a Single xml Binding Container a,Null Pointer Exeption' occures
14293-PDX-Charger-,Save As' of a Container fails when using certain pathnames
14299-PDX-Charger-missing SWEs after container import into PsdZ
14302-Coding Verification-Function,Verify all'can leed to an runtime error.
Change Requests and minor changes:
CR3304-Certificate Management-Adaptations Based on CR3135 and 3178
KA3459-Valid naming for RSU-specific ICs
CR3560-E-Sys Conversion to 64-Bit JAVA
CR3569-Certificate Management-unitary form for result files
CR3681-E-Sys-Adaptions resulting from modified TAL-Schema(IDR for ISTA)
BMW E-sys Free Download:
Here provide BMW E-sys 3.33.0,3.32.1,3.30.01 and 3.29.0 version download link.And you can read article below to know installation of bmw e-sys software.
BMW E-Sys_Setup-3.33.0-53640_64bit .exe
https://mega.nz/#!J4pByAjZ!oGIekxD182UoKaclg5QlSvMdvxD_DOiPC9UzJiX_Pds
BMW E-Sys_Setup-3.33.0-53640_32bit .exe
https://mega.nz/#!MlpzBYaZ!DVCzwIE-XxHNypbUxLir_GpXPzSSZstCtNwfV2PRYS4
E-Sys_Setup-3.32.1-52333_32bit.exe:
https://mega.nz/#!89oXUA6T!HSiYUO5MkxNz7yKbiUvAX9jpxpEGm2WT4iwsKI7dOC4
E-Sys_Setup-3.32.1-52333_64bit.exe:
https://mega.nz/#!5sI0xSCJ!RNXVUEpbvUbEw75EitsW3TdGv_u4N92LxsS7ViJsGd8
Download BMW E-sys 3.30.01 Setup Build 49938
https://mega.nz/#!wcMHgBZI!1p-PPaC6v5mT3-Bs3PMp5GY8hjArZl-5pEDNK0Xc3G8
Download BMW E-SYS 3.29.0 Setup Build 48884:
https://mega.nz/#!YZEEDSSI!tW40F79km2jtLyEcR4e-RIB2Z6t0L2G7zOjlsAd5DcE
Download Psdzdata 3.61.5 Lite:
https://mega.nz/%23!ehEjDLJb!gVbQZGfofR-BVzb_dn7sP1aYxqmtrSKNvmjUDa-kmKY
BMW Coding Risk:
There are limited risks of messing up with your car SW but if you are careful, follow step by step instructions and know and understand what you are doing, it may be OK to go ahead. Never try to guess and do it, be absolutely sure for your steps, clarify your doubts before you proceed. There are experts and on the many forum willing to help you, don't hesitate to ask even a silliest question. Never-the-less, if you want to try new unknown settings which others have not tried, believe me, you are playing with fire.