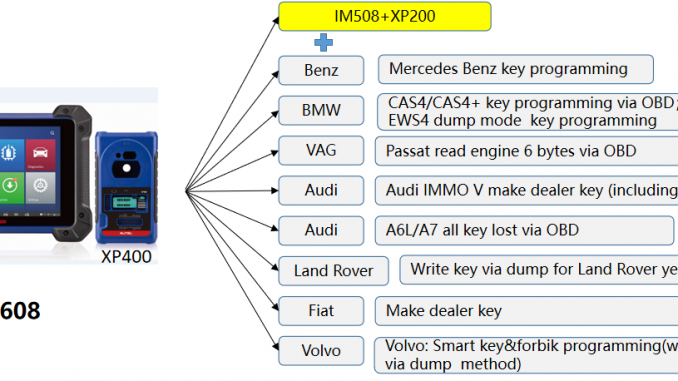 IM608 IMMO feature summary


1. IM508+XP200
2.Mercedes Benz key programming
3.BMW CAS4/CAS4+ key programming via OBD;EWS4 dump mode key programming
4.VAG Passat read engine 6 bytes via OBD
5.Audi Audi IMMO V make dealer key (including A4,A5,A6,A7,A8 and Q5)
6.Audi A6L/A7 all key lost via OBD
7.Land Rover Write key via dump for Land Rover year 2015+
8.Fiat Make dealer key
Volvo Smart key&forbik programming(write key via dump method)
IM608 IMMO Introduction
1.Support most vehicle key programming,covers over 95% model year of 2004+
2.Easy to use,cover 80% OBD key programming vehicle models
3.Benz: 3rd Generation EIS all models key programming
4.BMW:EWS4-FEM/BDC all models key programming(except for G chassis)
5.Land Rover/Jajuar: write key via dump for year 2015+
6.Volvo: Support all models add key all key lost before year 2019
Benzs:3rd Generation EIS all models key programming
1、Mercedes benz add key all key lost via obd before year 2014(few need to do with dump mode, some support to year 2017.);
2、Benz Smart key add, all key lost via obd
Functions
Methods
EIS type
Supported EIS type
Add key
OBD/on bench
EIS(CAN-line)
W164 -2008、W164 2009-、W166、W169、W172、W197、W204、W207、W209 2006-、W211、W212、W216、W218、W221、W246、W251 -2008、W251 2009-、W639/2009-、W906
EIS(K-line)
W202、W203、W208、W209、W210、W215、W220、W230、W463、W639
All key lost
OBD
3rd CAN EIS
W164 2009- 、W169、W172、W204、W207、W209/2006-、W211、W216、W251/2009-、W639/2009-、W906(use with G-BOX 8 time faster)
On bench
3rd Generation EIS:

W164 -2008、W164/2009-、W169、W172、W204、W207、W209/2006-、W211、W216、 W221、W251/2009-、 W639/2009-、W906(use with G-BOX 8 time faster)
On bench
EIS(K-line)

W202、W203、W208、W209、W210、W215、W220、W463、W639(use with G-BOX 8 time faster)
IMMO part replacement
OBD/on bench
EIS replacement

(Read/write/erase)

W164/-2008、W164/2009-、W166、W169、W172、W197、W204、W207、W209/2006-、W211、W212、W216、W218、W221、W246、W251/-2008、W251/2009-、W202(K)、W203(K)、W208(K)、W209(K)、W210(K)、W215 (K)、W220 (K)、W230 (K)、W463 (K)、W639 (K)
OBD/on bench
ELV replacement

(Read/write/erase)

W204、W207、W208、W210、W212、W169(NEC)、W209(NEC)、W211(NEC)、W906(NEC)、W209(Motorola)、W211 (Motorola)、W906(NEC)、W639/2009-、W906(Motorola)
BMW:EWS4-FEM/BDC all models key programming(Except for G Chassis)
Advantages:
1、CAS4 add key, all key lost via OBD
2、CAS4+ add key, all key lost via OBD(need ISN code)
3、CAS4/CAS4+key programming(ECU upgrade、ECU repair)、Coding(repair coding, restore coding)
4、CAS module replacement(support replace brand-new module or used module)
Land Rover/Jaguar:write key via dump for year 2015+
Advantages:
Use with XP400 to program key for all models of Land Rover/Jaguar from 2015-2019
Volvo:Support all models add key all key lost before year 2019.
1、add semi-smart/smart key, all key lost(use with XP400 to KVM module for smart key by dump ):
C30(2007-2013)、C70(2007-2013)、S40(2004-2012)、S60(2010-2018)、S80(2007-2016)、
V40(2012-2018)、 V60(2011-2017)、 V70(2009-2016)、 XC60(2006-2018)、 XC70(2007-2016)、
2、Forbik key add, all key lost(use with XP400 to read CEM module by dump ):
C30(2007-2013)、C70(2007-2013)、 S40(2004-2012)、V50(2006-2012)
3、Add blade key , all key lost(use with XP400 to read CEM module and UEM module by dump):
S60(2006-2009)、S80(2005-2007)、V70(2006-2008)、V70 XC(2006-2007)、XC70(2006-2007)、XC90(2005-)
IM608 PRO IMMO Feature Summary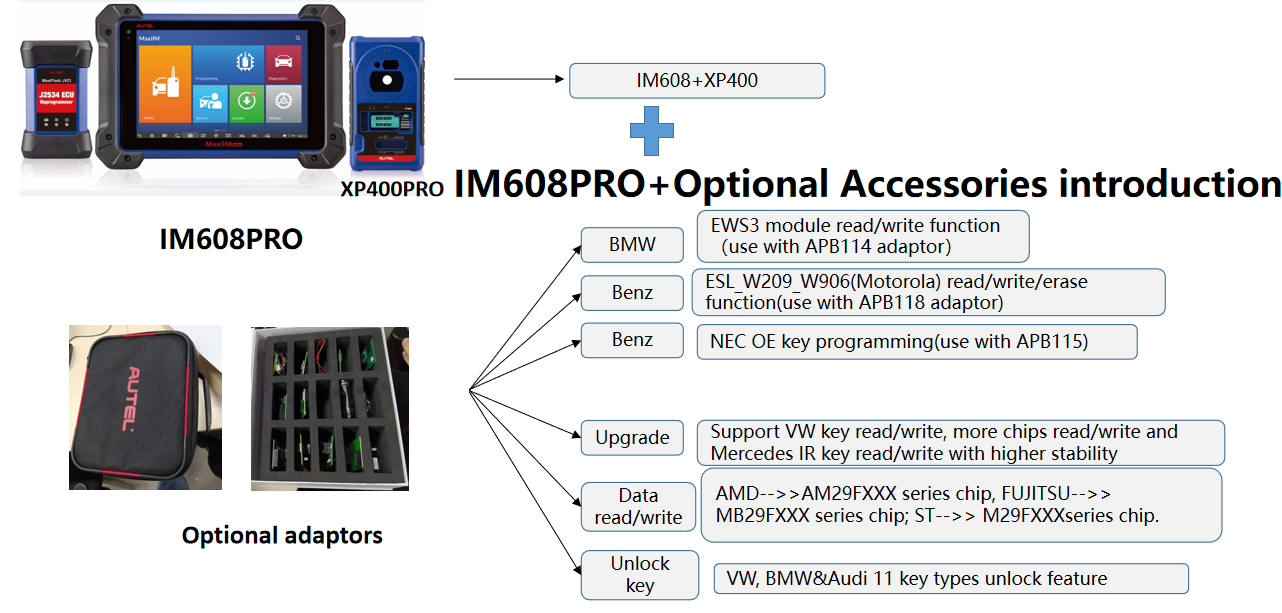 Programmer comparison chart
Features
XP400
XP400PRO
VVDIPROG
EEPROM read/write
330 chip types
445 different chip types
newly added support(AM29FXXX series,MB29FXXX series)
429 different chip types
MCU read/write
1541 chip types
2067 chip types
1758 different chip types
Engine ECU read/write
40 chip types
41 chip types
add write support for SIMTEC76(AM29F800BB)_WRITE
Engin ECU read(74 types)
Immoblizer ECU read/write
168 chip types
181 chip types
171 chip types
Odometer read/write
read odometer module 9 types
read odometer module 171 types(update in July)
read odometer module 171 types
Airbag read/write
read airbag module 5 types
read airbag module 5 types
read airbag module 54 types
Frequency detection
315/433/868MHz
315/433/868MHz
N/A
Key read/write
support
support
N/A
Unlock key
N/A
support 11 key types(Audi/BMW)
6 key types
Write key via dump
Mitsubishi, suzuki, fiat, landrover,Juguar
Mitsubishi, suzuki, fiat, landrover, Juguar
Support 40+vehicle makers
Easy to use/stability
1.menus are too value and can't select intuitively
2. with high-definiton wiring diagrams(not sufficiently covered)
1.Stability of key read/write, chip read/write, IR key read/write are greately enchanced.
2.menus are too vague and can't select intuitively
3.with high-definiton wiring diagrams(not sufficiently covered)
1. menus are clear and easy to use
2.with high-definiton wiring diagrams(sufficiently covered)
3.high stability of chip read/write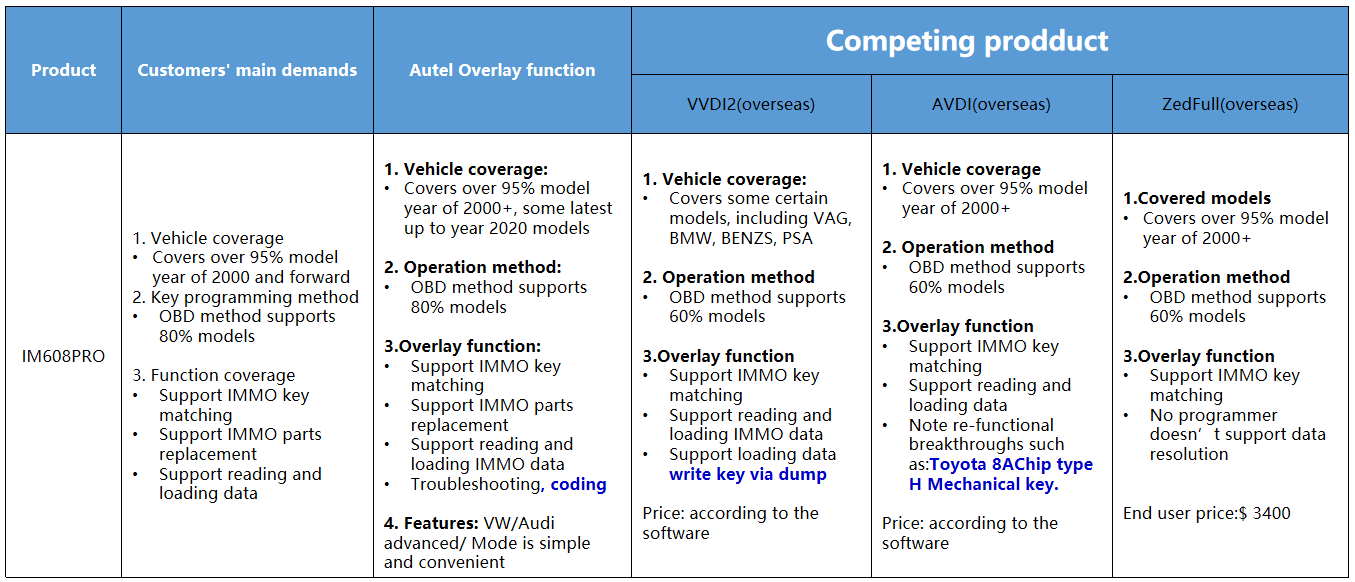 IM608 Pro advantage: cover 95% models, supports 80% by OBD, easy to use.
IM608 Pro disadvantage: Toyota 8A/H all key lost doesn't support
insufficient new features, insufficient IMMO data loading.
Programmer advantage: use with IM608 to program keys for Benz,BMW etc brands.
Programmer disadvantage: support few write key via dump brands and cover fewer engine types.