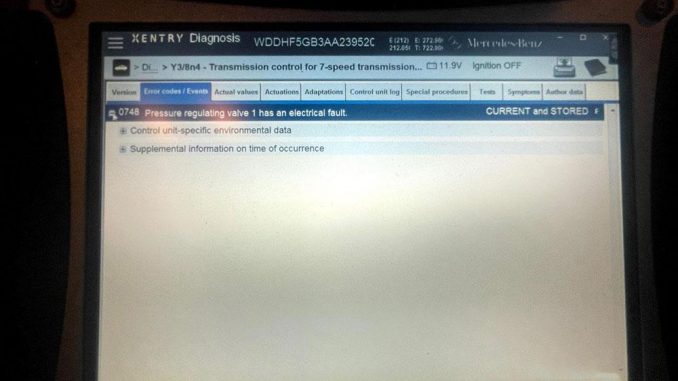 Symptoms:
Went through the flush and cleaning of the solenoids, found some dark matter, used a magnet. Put it all back and bam limp mode and the P0748 code is persistent. Took it apart, tested the solenoids for clicking at 12v just the blue click the black make a different noise more like a buzzing.
Resistance is 5.6 plus or minus 0.2 so good.
Mercedes W212 diagnostic tool to use:
Usually the issue with the conductor plate is the speed sensors… if you have access to Star (Xentry), then pull codes with it and clear them. Some generic scanners cannot clear TCM codes. I'd do that first… before going down the rabbit hole. Also with Xentry, you'll have options to run guided tests, along with diag info.
Outfits that fix your original conductor plate won't require coding or adaptation.
If you get a new one from dealer or outfit selling virginized (used), then you'll need someone with Xentry online to unlock and code the plate. Then with Xentry offline you perform adaptations.
Look at the following images showing I do have access to the laptop star(xentry) deal: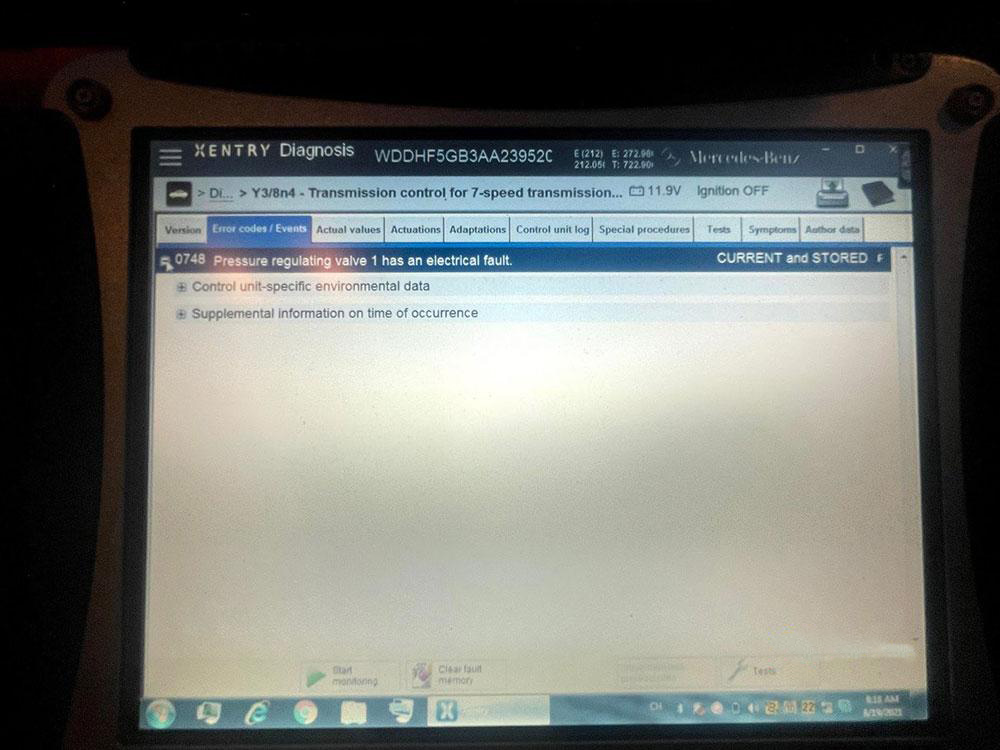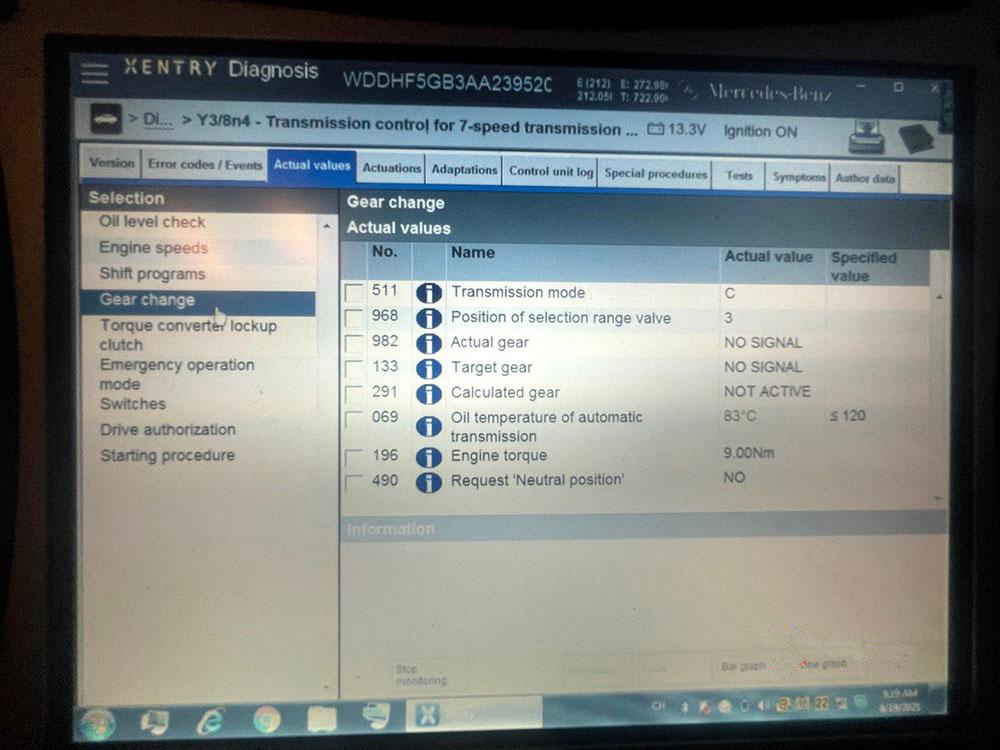 Assuming you've tried clearing and it comes right back.
Click Tests, under the first picture, after you click the fault within the module. Obviously the solenoid can be bad, there's a chance the conductor plate is/was bad or damaged in some way. I'd probably throw a solenoid at it before replacing the conductor plate… especially since it not a common fault, nor are there multiple faults present either.
I suspect the solenoid in question is: Y3/8y1 Working pressure control solenoid valve.
Since you aren't getting codes for the other solenoids… you could temporarily swap the "bad" one with a "like" colored solenoid (blue vs. black) and rescan for codes. If the code doesn't change.. then is likely the conductor plate. If a new code pops up, then is likely the solenoid. Don't forget to put the solenoids back to original location.
The 722.9 doesn't suffer from the same connector leaking issue as the 722.6. The .9 variant integrated the TCM into the conductor plate and the connector is molded-in… so there's nothing to leak into the vehicle harness or connector. Totally different design. The only leak would be past the o-rings on the molded connector and transmission body, which would just be a leak… no affect on electrical connection.
0748 The internal electrical check of component Y3/8y2 (K1 clutch control solenoid valve (VGS)) has failed. Solenoid filter(s) may need cleaning, or replacement.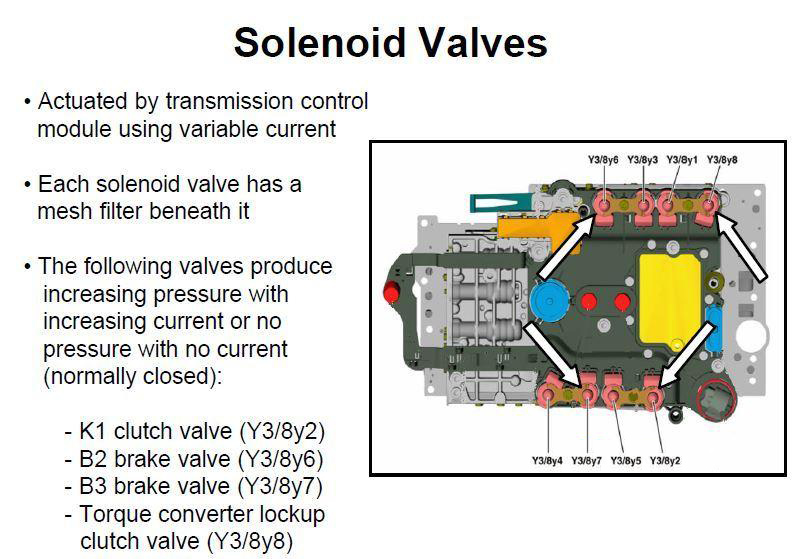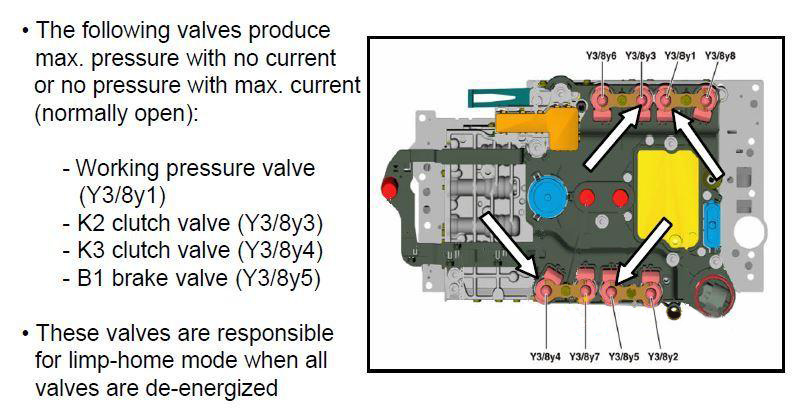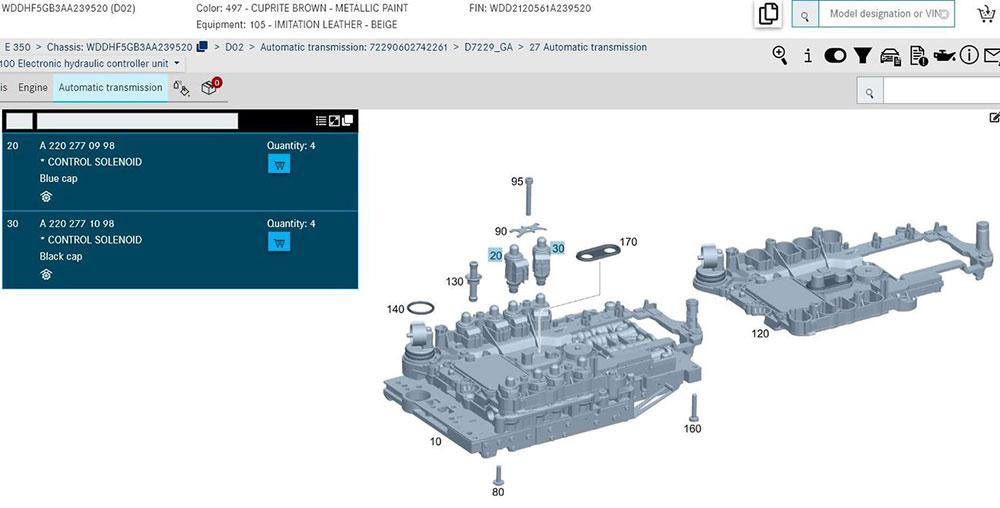 Does the car have ECO start/stop… if not the only transmission pump is mechanical, e.g. engine needs to be running for it to be operational. Now if it does have ECO, then there's a electrical pump that runs. That, I'm not sure of, whether it'll run with the engine off vs. ECO off. I suspect, it would only work during an ECO stop.
Yes, the conductor plate usually suffers from a certain fault. However, electrical connections exist between the TCM>conductor plate>solenoid… so there's a possibility the conductor plate could be bad. I think the likelihood is the solenoid itself is bad or dirty. I'd be inclined to swap test and/or replace the solenoid first, before throwing other parts at it.
Finally Update:
Finally, I highly recommend a brand new one……. But you will not be able to purchase this part. Only shops with licensing through NASTF can purchase this part from dealer, here in the US. And even if you were able to purchase, then you would need access to the online system for programming and SCN coding. Is possible to do offline with Vediamo and DTS Monaco (Runing for sdconnect c4 plus DOIP), also. You just need to find the correct CBF and Coding.
Abrites can virginize and change the VIN, but comes at a high price. I highly doubt the Chinese will be able to log in to the online system with your set up. Mercedes is blocking unauthorized laptops/PC's. Pretty much whether you are installing a new or virginized one, the steps are the same. Valve body flow data needs to be read and transferred. After, you need to perform programming, SCN coding, personalization, activation and range sensor calibration.