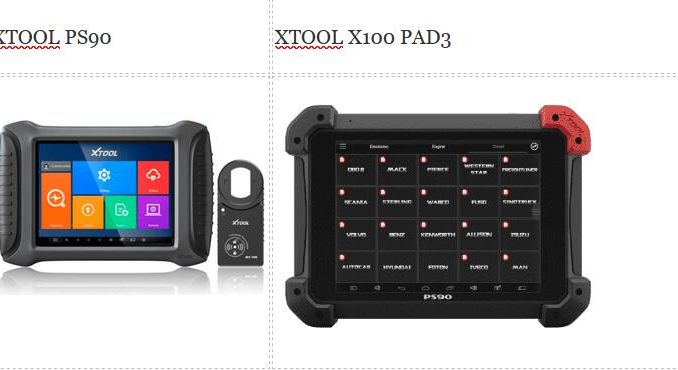 As we all know XTOOL X100 PAD3 and Xtool PS90 support all system diagnosis, key programming, odometer adjustment and special function, the main function supported is different.
Besides :
PS90 mainly supports all system diagnosis, can be used to read & clear fault code and read data stream, etc.
X100 PAD3 features in more special functions such as Window initialization, Gearbox Match, Crankshaft Resync, Injector code, Cylinder, Seat configuration, Electronic Pump Activation, Performance Tire Upgrade and Disable Transportation.
Notice : X100 PAD 3 mainly supports key programming and can do some common OBDII diagnosis, but it cannot read data stream.
We can check the exactly comparison as bellowing sheet :
Product name
XTOOL PS90
XTOOL X100 PAD3
Photos
Language
English, French, German, Italian, Polish, Portuguese, Spanish, Russian
English, French, German, Italian, Portuguese, Spanish, Russian, Polish, Japanese, Korean
Full system diagnosis
Yes
Yes, support common OBDII diagnosis
Read fault code
Yes
Yes
Clear fault code
Yes
Yes
Read data stream
Yes
No
Key programming (immobilization)
Yes
Yes
Odometer Adjustment
Yes
Yes
Oil service reset
Yes
Yes
EPB
Yes
Yes
TPS
Yes
Yes
TPMS (Tire Pressure Warning Light Reset)
Yes
Yes
BMS Reset
Yes
Yes
Headlight
Yes
Yes
Air Suspension
Yes
Yes
SAS Reset
Yes
Yes
DPF
Yes
Yes
ABS Bleeding
Yes
Yes
Airbag reset
Yes
Yes
Window initialization
No
Yes
Gearbox Match
No
Yes
Crankshaft Resync
No
Yes
Injector code
No
Yes
Cylinder
No
Yes
Seat configuration
No
Yes
Electronic Pump Activation
No
Yes
Performance Tire Upgrade
No
Yes
Disable Transportation
No
Yes
Hardware comparison:
Operating System
Android 4.4.4
Android 5.1.1
CPU
Rockchip 4 Core, 1.6GHz
Rockchip civil-grade processor
Storage space
32GB Flash
FLASH 64GB
RAM
2G
2G
Battery
8000 mAh, 7.4V
10000mAh
Resolution
1024x768P
1024*768
Screen size
9.7-inch LED
8 inch
HDMI
Yes
Yes
Bluetooth
Yes
No
WIFI
Yes
Yes
Dimension
300 (11.81") x 220 (8.66") x 50 (1.97") mm
275*183*33.9 (mm)
One key update
Yes
Yes
Database
Built-in database
Built-in database
Technical support
Expert service team
Expert service team
More interesting , welcome to check our website www.obdii.shop