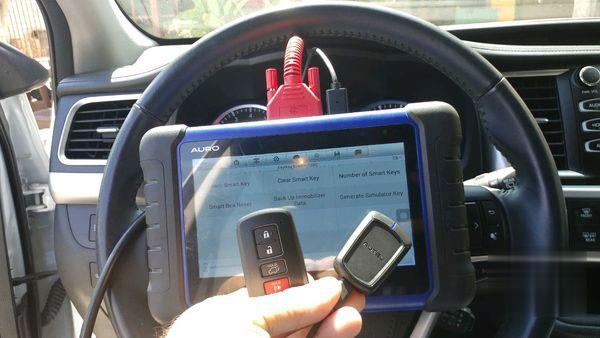 Question:
So if I already have a IM508 with XP200 and I only obtained the APB112 Smart Key Emulator thing for the time being . Am I able to do All keys lost on Toyotas with Smart /Proximity keys or not? Do I still have to also buy the XP400 in order to do this on any Toyota or other Asian makes? I couldn't see in this video if an XP400 had to be used.
Solution:
APB112 is compatible with IM508 (with XP200), IM608 (XP400), IM608 Pro (XP400 Pro) and the older Auro Otosys IM100 and IM600.
But in the near future there will be some vehicles that need both the xp400 and apb112 to execute the key coding procedure.
It depends where you are getting the existing key data from. If you are pulling it OBD then the emulator should plug into the IM508/IM608 unit. If you are eeproming, you will need the xp400 or xp400pro to read the chip as well.
The Autel APB112 smart key emulator is designed to collect the data send from the ignition coil, aiming to identify the ignition coil troubles and decode the data of the vehicle key chip.
It an also emulate the vehicle key chip.
Autel APB112 expands the tablets' already significant coverage and functionality by enabling you to quickly. Add keys to Toyota and Lexus vehicles in an All Keys Lost scenario.
Top advantages of APB112:
Time saving. APB112 takes 2-5 mins, no need to wait 16 minutes or more.
You can add-a-key which doesn't erase other keys so if they have more keys at home they don't need to re-add them.
If you have a bad steering lock you can't reset for AKL this is the only way to make a key. If you try to program the steering lock it will ask you to tap the key and if you try to make a key it will say it can't because you don't have a working steering lock.
You can start the car at no cost if they just want to drive it home where they have spare keys.
Can do Hyundai Kia (calculate ID 46 pin code) and even Subaru
How to connect APB112 key simulator?
Connect the APB112 smart key simulator to Autel Diagnostic Device with the supplied USD cable;
Complete the connection, status indicator lights solid blue, indicating that the APB112 smart key simulator is working properly. Then it will communicate with the diagnostic device automatically.
According to the selected vehicle system function, the APB112 smart key simulator application is automatically upgraded on the Autel diagnostic device;
In order to decode the chip, please place the smart key simulator close to the ignition coil for data collection. After decoding, the original car chip data can be copied;
The emulator key chip can generate various types of key chips by performing subsequent upgrades as needed.

Demo: Program Toyota Camry 2016 All Smart Keys Lost with Autel IM508 & APB112
APB112 and Autel tablets review:
1). It works with the IM508, used it already, works like a charm. Sometimes it doesn't want to back up immo data but then you risk it on resetting the smart box….
2). Works fine with xp200 I've done it multiple times. Also have xp400 and works with both.
3). Yes it does. I have the IM508 and have used the APB112 multiple times.
4). So far I've used the APB112 with just the 508, '17 Tacoma, 18 Camry, 13 Lexus all smart keys,worked perfect didn't use either XP200 or XP400.
5). APB112, works with the tool. Not with the XP programmers . Look at your im508. You only have one USB port.
6). 2014 Toyota Avalon AKL. Customer provide Smart key
Done with IM508 and APB112
APB112
1. Back up Immobilizer
2. Make simulator key
3. Add key
15 min 's job.
7)
I've used it on about 4 Toyota Camry Hybrids to do AKL
Just plugs into the autel via USB directly
Read immo data, make emulator, use it to make program a new key
Leave it plugged in while you're using it, as soon as you unplug it it wipes it ready for the next key
8).
Yes, Just plug right to the IM508/IM608. No need for the XP400
9)
Successes, with Autel APB112 smart key simulator. With IM-100. It took less than 5 minutes, On a 2017 Toyota Highlander, proximity key. All Keys Lost. . Was Fast & Easy. No need for the XP 400. Quick steps review. Open vehicle, wake up computer, turn on flashers, connect by OBD-II, and connect to Internet. Locate vehicle on tool, Backup eeprom data, and save file. Re-inter tool, and generate simulator. Test if ignition turns on. Re-inter tool, go to Add key, by apb112, yes! Use simulator to start process, add key. Job done. Very Nice tool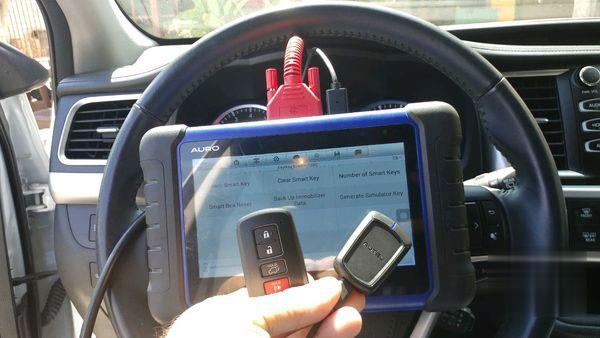 10). It works great. Allows you to bypass the 16 minutes on a Toyota.
11). Just used it today on a 2013 Hyundai Elantra worked awesome first time using it! With the help of tech support
12). I just bought one last week, Had a 2015 GS350 AKL that took 20 minutes in and out, could've done it faster and been otw to the next job in half the time with the APB112 if I had it two weeks ago. So I bought it. Will definitely come in handy with further updates.
13). Used it for lost keys on a 17 Subaru impreza keyed ignition H key. Read eeprom and had to use APB112 to generate key.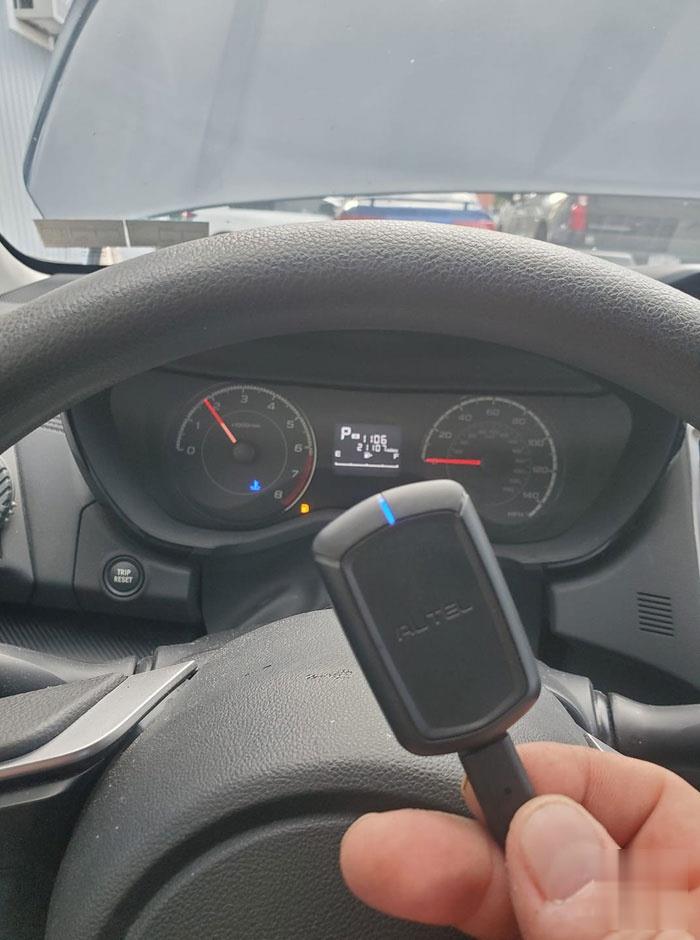 17 Subaru Impreza Autel Apb112
14). 100% worth every penny. I do AKL on a 2012 Prius
15). I used this on a Lexus where another locksmith had tried before me and locked it out after reset. I was shocked it worked
16). Yeah it works perfect even on hyundai honda subaru
17). Works great, did a Camry had to try without the adapter because I did not have it and I waited the 16 min but for some reason it failed came back the next day and did it with this no problem
18). 2018 toyota corolla 8A chip success with APB112 emulator,
5 minutes in and out..
for lost key, without the emulator occupies reset immo box and wait for 16 minutes, with the emulator only makes a back of the data, and generates a key and so you can only add, the process alone It takes 5 minutes..