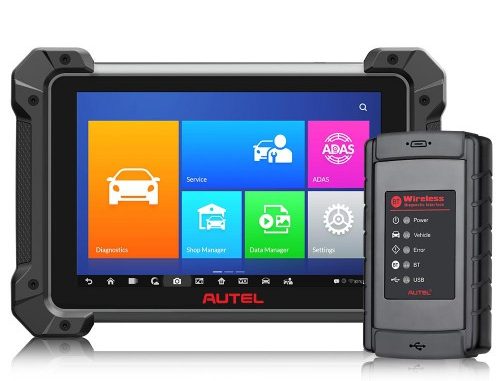 Autel MaxiCOM MK908 PRO II is 10.1-inch touchscreen advanced diagnostics tablet powered by a Octa-core processor with 128GB of storage memory and runs on Android 10. The MK908 PRO II can read/erase codes on all available systems, perform bi-directional active tests, view freeze frame, view and graph live data, and perform adaptations and coding on U.S., Asian and European vehicles, 1996 and newer.
2022 Autel MaxiCOM 908 new series diagnostic scanner is coming! As the upgrade version of Autel MK908 & MK908 Pro, what's the new feature?
No hurry, here we have listed a comparison table to make it easy. Let's take a look.
Autel Scanner MK908 II vs. MK908 vs. MK908Pro II vs. MK908Pro Comparison Table
Model

Autel MaxiCOM MK908 II

Autel MaxiCOM MK908

Autel MaxiCOM MK908Pro II

Autel MaxiCOM MK908P

Image

CPU

Qualcomm 660

Exynox 5260

Qualcomm 660

Exynox 5260

Display

10.1″

10.1″

10.1″

10.1″

Battery

15000mAh

15000mAh

15000mAh

15000mAh

Memory

4G/128G

2G/64G

4G/128G

2G/64G

System

Android 10

Android 4.4.2

Android 10

Android 4.4.2

VCI

Wireless diagnostic interface(BT VCI)

Wireless diagnostic interface(BT VCI)

Maxi

f

lash Elite

Maxi

f

lash Elite

VCI protocol

KWP, CAN, UDS, OBDII

KWP, CAN, UDS, OBDII

KWP, CAN, UDS




OBDII, J2534

KWP, CAN, UDS




OBDII, J2534

Read & clear codes

√

√

√

√

Data stream

√

√

√

√

Maintenance

√

√

√

√

Special functions

√

√

√

√

Action test

√

√

√

√

Hidden features

√

√

√

√

VW, VW-CV, Audi, Skoda, Seat, Bently, Man LD Guidance

√

√

√

√

Programming

√

 

(Ford offline)

√

 

(Ford offline)

√

 

(Benz, BMW online)

√

 

(Benz, BMW online)

Coding

√

 

(BMW, Porsche, VW)

√

 

(BMW, Porsche, VW)

√

 

(Benz, BMW, Porsche, VW, Audi)

√

 

(Benz, BMW, Porsche, VW, Audi)

McLaren

√

(M series)

×

√

×

Tesla

×

×

√

×

Digital inspection




(MV105/

MV108

)

√

√

√

√

Battery test




(

BT506

, in/out vehicle test)

√

√

√

√

Renault gateway supported

√

√

√

√

Language

Muti-language

Muti-language

Muti-language

Muti-language

Report on cloud

√

√

√

√

Pre&Post scan

√

√

√

√

WIFI print

√

×

√

×

Auto VIN

Auto detect,

 

M

anual input

Auto detect,

 

M

anual input

Auto detect,

 

M

anual input

Auto detect,

 

M

anual input

Scan VIN

√

×

√

×

Scan License

√

×

√

×

Coverage

– 2022

– 2022

– 2022

– 2022