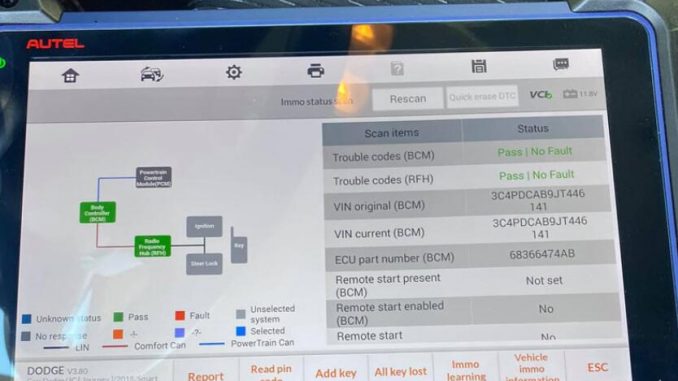 2018 Dodge Journey. Push to Start and all keys lost. I see that this vehicle has a security gateway located behind the OBD port. I know with other programmers it requires a security gateway bypass cable. Autel shows it can be programmed through the OBD port. I've never programmed keys for a vehicle with the security gateway. Is there a bypass cable that has to be used with the Autel IM608?
UPDATE: I was able to program the fob yesterday. I believe AutoAuth allows you to use the IM608 before initially scanning the vehicle. It was required both when plugged into the OBD port and security gateway. Reading the PIN failed on the OBD port and I received a message stating PIN reading not supported for this vehicle.
Once I found the Security Gateway module, located under the left side dash above the OBD port, I was able to pull the PIN and program the fob using the 12 +8 cable. This was my first security gateway bypass job and the Autel IM608 programmed the fob with ease. Loving this tool over my other programmers.
FYI autoauth will NOT allow you to program keys, you have to use the bypass cable.
FCA does not give access thru autoauth because security programming requires a LSID.
Autel engineers were trying to doing data logs on pin pull and key programming on FCA vehicles, failed on all of them because it was actively blocked by autoauth.