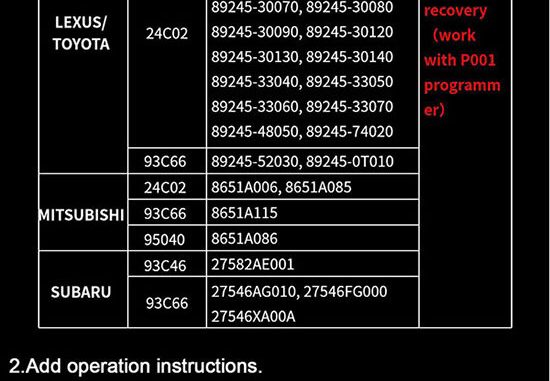 OBDSTAR Tech has upgraded steering angle sensor (SAS) recovery and IMMO function for OBDSTAR X300 DP Plus/X300 Pro4 in June 2021. The related cable and adapter are required. Check the details as blow.
Upgrade 1: Steering Angle Sensor (SAS) Recovery Upgrade [V30.05]

1.Compatible device: X300 DP Plus with OBDSTAR P001 programmer
2.Car models supported: VW, CITROEN/PEUGEOT, LEXUS/TOYOTA, MITSUBISHI and SUBARU
Check the specific chip model as below.
Brand
Chip type
Part No.
VW
95080
4H0953568A, 4H0953568B
4H0953568E, 4H0953568G
4H0953568H, 7PP953568BK
8K0953568D, 8K0953568F
8K0953568G, 8K0953568H
8K0953568J, 8K0953568L
8K0953568M, 8K0953568Q
CITROEN/
PEUGEOT
24C02
8651A006, 8651A084
8651A085
95040
8651A086, 8651A134
LEXUS/
TOYOTA
24C02
89245-02040, 89245-02080
89245-05020, 89245-05030
89245-06040, 89245-06050
89245-30070, 89245-30080
89245-30090, 89245-30120
89245-30130, 89245-30140
89245-33040, 89245-33050
89245-33060, 89245-33070
89245-48050, 89245-74020
93C66
89245-52030, 89245-0T010
MITSUBISHI
24C02
8651A006, 8651A085
93C66
8651A115
95040
8651A086
SUBARU
93C46
27582AE001
93C66
27546AG010,27546FG000
27546XA00A