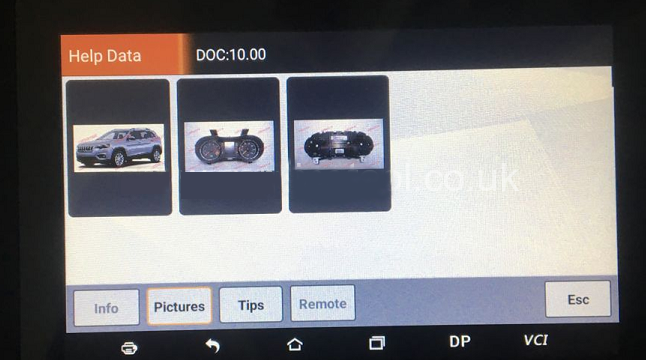 As we know, there is a "Help" function in the operating menu for OBDSTAR X300 DP Plus, ODOMASTER and X300 Pro4. Here have collected all the car models which support Help info, pictures, tips and remote.
Something to know about "Help" Functions:
1.including built-in testable vehicle models, upgrade announcement, features, help notes and wiring diagrams, etc.
2 Carlist and upgrade announcement, all details are available on the device
3.Customers can look up the features or uniquely support functions on the device
4.Help notes: built-in help notes for each model or function
5.Wiring diagrams: built-in ECU wiring diagrams, more intuitionistic and convenient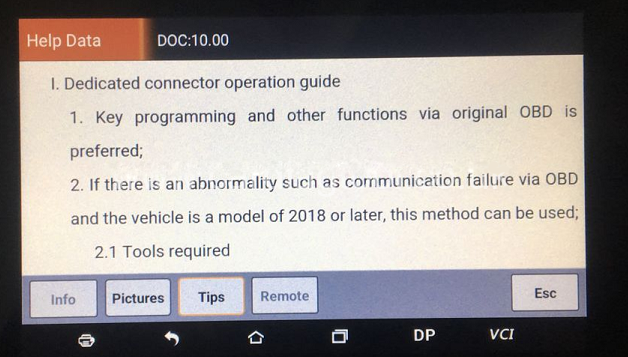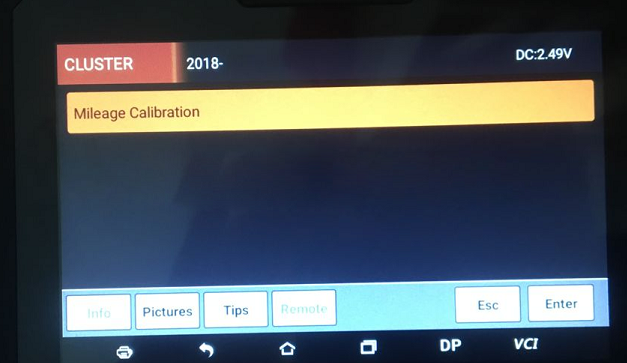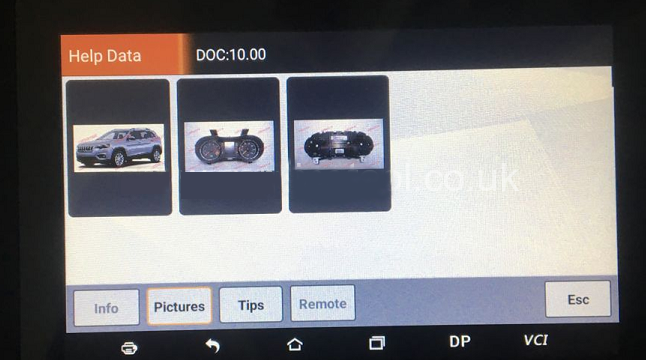 OBDSTAR X300 DP Plus
OBDSTAR X300 DP Plus
| | |
| --- | --- |
| Car model | IMMO Help info |
| CITROEN/Peugeot/DS | Help info, pictures, tips and remote |
| Dacia | |
| Jaguar | Help info, pictures, tips and remote |
| Chrysler | Help info, pictures, tips and remote |
| Renault | |
| Fiat | 124 SPYDER/500X PROX/FREEMONT |
| Land Rover | Land Rover IMMO tips (all the current car models have the help function) |
| MASERATI | smart key system |
Car model
Odometer Correction Help info
Mercedes-Benz
Tips
Chrysler
Chrysler 2018- and FCA 12+8 adapter (Help info, pictures, tips):
300C 18-   CHARGER 18-   CHEROKEE 18-    COMMANDER 18   COMPASS 2018    DURANGO  2018-   GRAND CHEROKEE 2018-   CHALLENGER 2018-  PACIFICA 2018-   RAM 2018-   RENEGADE 2018-
CITROEN/Peugeot
CITROEN/Peugeot Tips
FORD/LINCOLN
FORD/LINCOLN mileage adjustment image and tips
MASERATI
MASERATI 2018- and FCA 12+8 adapter:
GHIBLI 2018-   LEVANTE 2018-   QUARTOPORTE 2018-
Detailed IMMO help function car list:
| | | | | | | | | | |
| --- | --- | --- | --- | --- | --- | --- | --- | --- | --- |
| Car make | Car model | Region | Key type | Car year | Submenu | Car info | pictures | Tips |  Remote |
| PEUGEOT | 1007 | VF3PM(VIN) | BLADE | 2005-2014 | | | | | |
| PEUGEOT | 1007 | VF3K(VIN) | BLADE | 2007- | | | | | |
| PEUGEOT | 1007 | VF3K(VIN) | BLADE | 2005-2007 | | | | | |
| PEUGEOT | 1007 | VF3K(VIN) | BLADE | 2003-2005 | | | | | |
| PEUGEOT | 206 | | BLADE | | | | | | |
| PEUGEOT | 207 | CHINA | BLADE | Type1 | | | | | |
| PEUGEOT | 207 | CHINA | BLADE | Type2 | | | | | |
| PEUGEOT | 207CC | | BLADE | | | | | | |
| PEUGEOT | 208 | | BLADE | | | | | | |
| PEUGEOT | 2008 | | BLADE | | | | | | |
| PEUGEOT | 301 | | BLADE | | | | | | |
| PEUGEOT | 307 | | BLADE | Type1 | | | | | |
| PEUGEOT | 307 | | BLADE | Type2 | | | | | |
| PEUGEOT | 308 | CHINA | BLADE | | | | | | |
| PEUGEOT | 308S | | BLADE | | | | | | |
| PEUGEOT | 3008 | | BLADE | | | | | | |
| PEUGEOT | 406 | | BLADE | Type1 | | | | | |
| PEUGEOT | 407 | | BLADE | | | | | | |
| PEUGEOT | 408 | | BLADE | | | | | | |
| PEUGEOT | 4007 | | BLADE | | | | | | |
| PEUGEOT | 4008 | | BLADE | 2012-2017 | DIESEL | | | | |
| PEUGEOT | 4008 | | BLADE | 2012-2017 | PETROL | | | | |
| PEUGEOT | 4008 | | PROXIMITY | 2012-2017 | | | | | |
| PEUGEOT | 508 | | BLADE | | | | | | |
| PEUGEOT | 508 | | PROXIMITY | | | | | | |
| PEUGEOT | 5008 | | BLADE | | | | | | |
| PEUGEOT | 5008 | | PROXIMITY | | | | | | |
| PEUGEOT | 607 | EUROPE | BLADE | 2005- | | | | | |
| PEUGEOT | 607 | EUROPE | BLADE | -2005 | | | | | |
| PEUGEOT | 807 | | BLADE | Type1 | | | | | |
| PEUGEOT | 807 | | BLADE | Type2 | | | | | |
| PEUGEOT | EXPERT | EUROPE | BLADE | Type1 | | | | | |
| PEUGEOT | EXPERT | EUROPE | BLADE | Type2 | | | | | |
| PEUGEOT | PARTNER | ASIA | BLADE | 2008-2018 | | | | | |
| PEUGEOT | PARTNER | ASIA | BLADE | 2002-2007 | | | | | |
| PEUGEOT | PARTNER | EUROPE | BLADE | Type1 | | | | | |
| PEUGEOT | PARTNER | EUROPE | BLADE | Type2 | | | | | |
| PEUGEOT | RCZ | | BLADE | | | | | | |
| PEUGEOT | Read PinCode | All Keys Lost Read | BSI | | | | | | |
| PEUGEOT | Read PinCode | All Keys Lost Read | ECM | | | | | | |
| PEUGEOT | Read PinCode | All Keys Lost Read | ECM | | | | | | |
| CITROEN | BERLINGO | | BLADE | | | | | | |
| CITROEN | BERLINGO 2 | | BLADE | 2007- | | | | | |
| CITROEN | BERLINGO 3 | | BLADE | 2018- | | | | | |
| CITROEN | C1 | | BLADE | 2014- | | | | | |
| CITROEN | C1 | | BLADE | 2005-2013 | | | | | |
| CITROEN | C1 | | PROXIMITY | 2015- | | | | | |
| CITROEN | C2 | | BLADE | Type1 | | | | | |
| CITROEN | C2 | | BLADE | Type2 | | | | | |
| CITROEN | C3 | ASIA | BLADE | C3 | | | | | |
| CITROEN | C3 | ASIA | BLADE | C3-XR | | | | | |
| CITROEN | C3 | EUROPE | BLADE | PICASSO | | | | | |
| CITROEN | C3 | EUROPE | BLADE | C3 AIRCROSS(2006-) | | | | | |
| CITROEN | C3 | EUROPE | BLADE | PLURIEL(2002-) | | | | | |
| CITROEN | C4 | | BLADE | Type1 | | | | | |
| CITROEN | C4 | | BLADE | Type2 | | | | | |
| CITROEN | C4 | | PROXIMITY | | | | | | |
| CITROEN | C4L | | BLADE | | | | | | |
| CITROEN | C5 | | BLADE | Type1 | | | | | |
| CITROEN | C5 | | BLADE | Type2 | | | | | |
| CITROEN | C5 | | BLADE | Type3 | | | | | |
| CITROEN | C6 | | BLADE | | | | | | |
| CITROEN | C8 | | BLADE | Type1 | | | | | |
| CITROEN | C8 | | BLADE | Type2 | | | | | |
| CITROEN | C-CROSSER | | BLADE | | | | | | |
| CITROEN | C-CROSSER | | PROXIMITY | 2007-2012 | | | | | |
| CITROEN | DISPATCH | VF7V(VIN) | BLADE | 2016- | | | | | |
| CITROEN | C-QUATRE | | BLADE | | | | | | |
| CITROEN | DISPATCH | VF7B(VIN) | BLADE | Type1 | | | | | |
| CITROEN | DISPATCH | VF7B(VIN) | BLADE | Type2 | | | | | |
| CITROEN | DISPATCH | VF7B(VIN) | BLADE | Type3 | | | | | |
| CITROEN | DISPATCH | VF7X | BLADE | | | | | | |
| CITROEN | ELYSEE | | BLADE | | | | | | |
| CITROEN | ELYSEE(NEW) | | BLADE | | | | | | |
| CITROEN | EVASION | | BLADE | Type1 | | | | | |
| CITROEN | EVASION | | BLADE | Type2 | | | | | |
| CITROEN | JUMPY | VF7B(VIN) | BLADE | Type1 | | | | | |
| CITROEN | JUMPY | VF7B(VIN) | BLADE | Type2 | | | | | |
| CITROEN | JUMPY | VF7B(VIN) | BLADE | Type3 | | | | | |
| CITROEN | JUMPY | VF7X(VIN) | BLADE | | | | | | |
| CITROEN | NEMO(VF7A) | | BLADE | Type1 | | | | | |
| CITROEN | NEMO(VF7A) | | BLADE | Type2 | | | | | |
| CITROEN | PICASSO | | BLADE | | | | | | |
| CITROEN | RELAY | | BLADE | | | | | | |
| CITROEN | RELAY2 | | BLADE | | | | | | |
| CITROEN | RELAY3 | | BLADE | | | | | | |
| CITROEN | SYNERGIE | | BLADE | Type1 | | | | | |
| CITROEN | SYNERGIE | | BLADE | Type2 | | | | | |
| CITROEN | SYNERGIE | | BLADE | Type3 | | | | | |
| CITROEN | TRIOMPHE | | BLADE | | | | | | |
| CITROEN | XANTIA(VF7X) | | BLADE | Type1 | | | | | |
| CITROEN | XANTIA(VF7X) | | BLADE | Type2 | | | | | |
| CITROEN | XANTIA(VF7X) | | BLADE | Type3 | | | | | |
| CITROEN | XSARA | VF7N(VIN) | BLADE | Type1 | | | | | |
| CITROEN | XSARA | VF7N(VIN) | BLADE | Type2 | | | | | |
| CITROEN | XSARA | VF7N(VIN) | BLADE | Type3 | | | | | |
| CITROEN | XSARA | VF7C(VIN) | BLADE | Type1 | | | | | |
| CITROEN | XSARA | VF7C(VIN) | BLADE | Type2 | | | | | |
| CITROEN | Read PinCode | All Keys Lost Read | BSI(BCM) | | | | | | |
| CITROEN | Read PinCode | All Keys Lost Read | ECM | | | | | | |
| CITROEN | Read PinCode | All Keys Lost Read | ECM | | | | | | |
| DS | DS3 | | BLADE | | | | | | |
| DS | DS4 | | PROXIMITY | | | | | | |
| DS | DS4 | | BLADE | | | | | | |
| DS | DS5 | | BLADE | Type1 | | | | | |
| DS | DS5 | | BLADE | Type2 | | | | | |
| DS | DS5 | | BLADE | Type3 | | | | | |
| DS | DS5 | | PROXIMITY | | | | | | |
| DS | DS6 | | PROXIMITY | | | | | | |
| DS | | | Read PinCode | All Keys Lost Read | BSI(BCM) | | | | |
| DS | | | Read PinCode | All Keys Lost Read | ECM | | | | |
| DS | | | Read PinCode | All Keys Lost Read | ECM | | | | |
| PEUGEOT | 108 | | BLADE | 2014- | | | | | |
| PEUGEOT | 108 | | PROXIMITY | 2015- | | | | | |
| PEUGEOT | 207 | AUSTRALIA | BLADE | 2013-2015 | | | | | |
| PEUGEOT | 207 | AUSTRALIA | BLADE | 2006-2012 | | | | | |
| PEUGEOT | 207 | EUROPE | BLADE | | | | | | |
| PEUGEOT | 207 | SOUTH AMERICA | BLADE | 2008- | | | | | |
| PEUGEOT | 308 | AUSTRALIA | BLADE | T7 | 2007-2014 | | | | |
| PEUGEOT | 308 | AUSTRALIA | BLADE | T9 | 2013- | | | | |
| PEUGEOT | 308 | EUROPE | BLADE | 2013- | | | | | |
| PEUGEOT | 308 | EUROPE | BLADE | 2007-2013 | | | | | |
| PEUGEOT | 308 | SOUTH AMERICA | BLADE | 2011- | | | | | |
| PEUGEOT | 607 | AUSTRALIA | BLADE | 2005-2009 | | | | | |
| PEUGEOT | 806 | | BLADE | | | | | | |
| | | | | | | | | |
| --- | --- | --- | --- | --- | --- | --- | --- | --- |
| Car make | Submenu 1 | Car model | Submenu 2 | Car year | Car info | Pictures | Tips | Remote |
| JAGUAR | Vehicle selection | XF | Smart key system | 2008-2012 | | | | |
| JAGUAR | Vehicle selection | XF | Smart key system | 2013- | | | | |
| JAGUAR | Vehicle selection | XJ | Smart key system | 2009-2011 | | | | |
| JAGUAR | Vehicle selection | XJ | Smart key system | 2011-2012 | | | | |
| JAGUAR | Vehicle selection | XJ | Smart key system | 2013 | | | | |
| JAGUAR | Vehicle selection | F-TYPE | Smart key system | 2013 | | | | |
| JAGUAR | Vehicle selection | S-TYPE | IMMO system | 2002-2005 | | | | |
| JAGUAR | Vehicle selection | S-TYPE | IMMO system | 2005- | | | | |
| JAGUAR | Vehicle selection | X-TYPE | IMMO system | 2004- | | | | |
| JAGUAR | Vehicle selection | XK | Smart key system | 2006-2014 | | | | |
| JAGUAR | Vehicle selection | XJ6 | IMMO system | 2003-2007 | | | | |
| JAGUAR | Vehicle selection | XJ8 | IMMO system | 2003-2007 | | | | |
| JAGUAR | Vehicle selection | XJR | IMMO system | 2004- | | | | |
| JAGUAR | Vehicle selection | XKR | Smart key system | 2006-2014 | | | | |
| JAGUAR | Vehicle selection | 2015- smart key write boot | | | | | | |