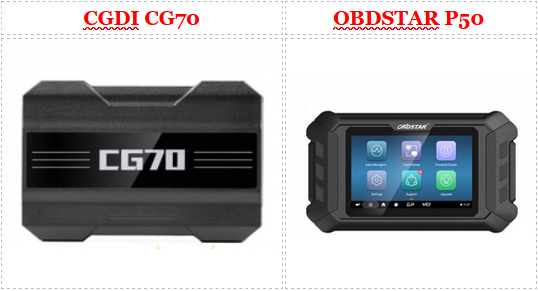 CGDI CG70 and OBDSTAR P50 are professional and cost-effective airbag reset tool on the market. Both can read DTC, read and write EEPROM and clear crash on bench with the clear wiring diagram in the software. There are some differences between them, but both are worth buying.
CGDI CG70 is better than P50 in the following accepts:
– Price is a little cheaper
– Supportsauto repair and repair airbag crash data
– SupportsMACXXX MCU type
– Software is simple, easy to check wiring diagramto use
– No dismantling, no welding, and non-destructive repair
OBDSTAR P50 is better than CG70 in the following accepts:
– A standalone tool, can work directly without PC.
– Supports more vehicle brands and ECU Part Numbers
– Supports OBD and bench mode. Most can be done by OBD, if fails by OBD, do it on bench.
– Can do Tesla, Maserati etc high-end vehicle airbag reset
– Supports mileage and oil light reset by buying the related authorization
– Supports longer free update time
Check more details in the comparison table below.
Product
CGDI CG70
OBDSTAR P50 
Image
Standalone
Based on PC, multiple systems
Standalone, Android 5.1.1 tablet
Function
Auto Repair
Yes
No
Read DTC
Yes
Yes
Erase DTC
No
Yes
Read and write EEPROM
Yes
Yes
Read and write Flash
No
Yes
Write VIN
No
Yes
Clear Crash
Yes
Yes
Unlock ECU
No
Yes
Language
English
English
Wiring diagram
Yes
Yes
Way to reset airbag
Bench
OBD and Bench
Repair airbag crash data
Yes
Only reset
Support brands
19 brands incl. Buick, Chevrolet, Ford, Great Wall, Hyundai, Infiniti, Jaguar, Kia, Land Rover, Lincoln, Mazda, Nissan, Opel, Renault, Suzuki etc
38 brands incl. Acura, Audi, Benz, Buick, Cadillac, Chevrolet, Chrysler, Citroen, Dacia, Dodge, Ford, GMC, GreatWall, Honda, Hyundai, Infiniti, Jaguar, Jeep, KIA, Land Rover, Lincoln, Maserati, Mazda, Mitsubishi, Nissan, Opel, Peugeot, Porsche, Renault, Seat, Skoda, Smart, Subaru, Suzuki, Tesla, Toyota, VW, Volvo
MCU types
MACXXX, H8SX, RH850, SPC, XC2XXX, TC2XXX, TMS570
H8SX, RH850, SPC, XC2XXX, TC2XXX, TMS570
Support airbag ECU part numbers
Over 2000 ECU Part Numbers
Over 6500 ECU Part Numbers
No dismantling, no welding
Yes
Require welding
Update
Free update online for 1 year
Free update online for 18 months, later $150 per year (March promotion is $90)
Volvo TMS570
Yes
Yes
Volvo XC90
Yes
Yes
Tesla Airbag reset
No
Yes
Extend function
No
Buy Odometer Reset+ Oil Light/ Service Reset Authorization, get mileage and oil reset function
Airbag coverage
CG70 Airbag Reset Tool Support List
OBDSTAR P50 Airbag Coverage
So, which one is better to choose? It just depends on the function and vehicle you want to do.
If you want a cheap and easy-operation airbag reset tool without dismantling and welding, choose CGDI CG70 Airbag Reset Tool. If you also need mileage and oil light reset function, OBDSTAR P50 Airbag Reset Tool is the best choice.