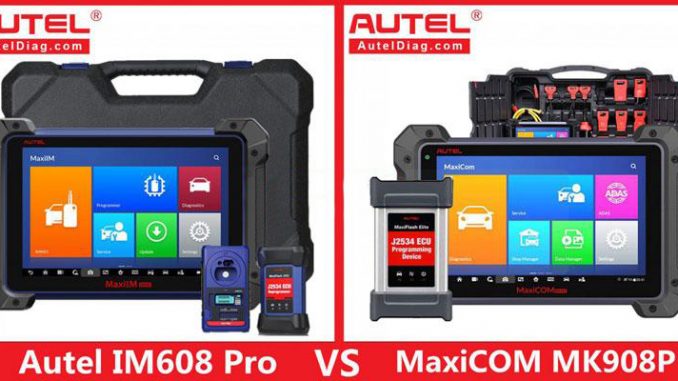 Question
Compare Autel MaxiIM IM608 Pro vs. Autel MaxiCOM MK908P diagnostic tool, do they have same programming tool options?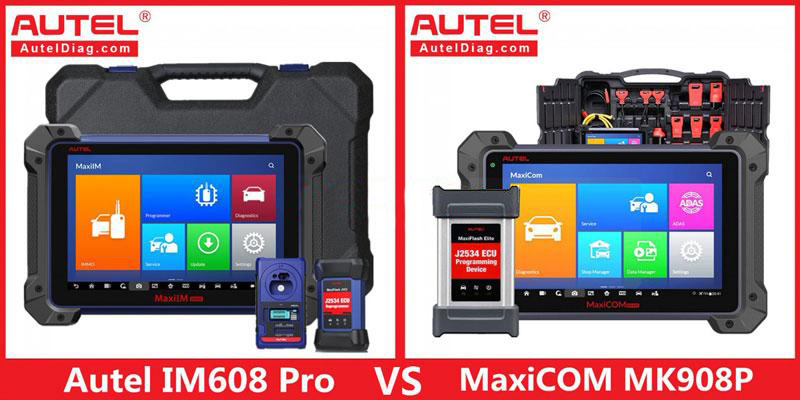 Answer
ECU coding part is the same, but Autel IM608 Pro doesn't have the option of ECU programming like Autel MK908P.
Autel IM608Pro is specialized in key programming while MK908P is specialized in ECU programming.
Autel MaxiIM IM608 Pro Key Programmer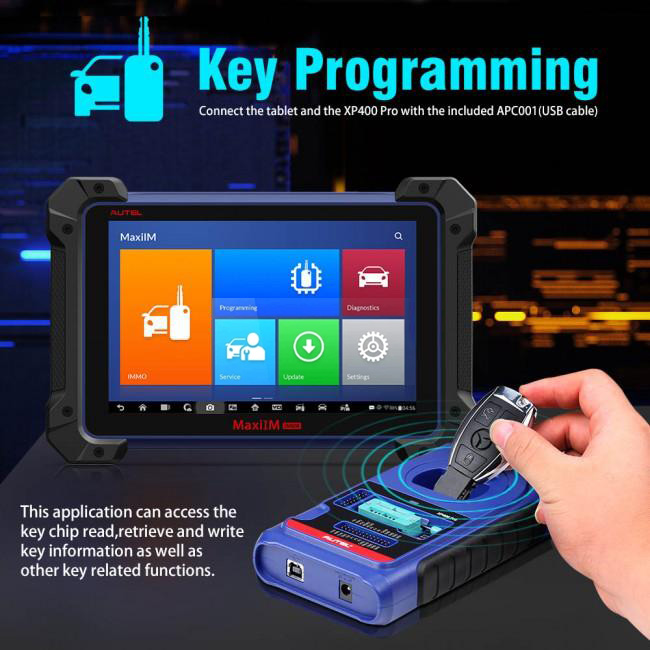 IMMO Functions
Smart mode (guided & automated key learning function)
Auto detect make/ model/ year/ system
Read PIN (add key/all key lost)
Key generation/ key learning/ remote learning
IMMO ECU reset/ adaption
IMMO ECU refresh/ coding
Backup / restore IMMO data
Benz 3rd generation IMMO add key, all key lost via OBD
Read/ write/ erase Benz ESL_W209/ W906 data (need extra adapters)
Benz OE NEC key learning (need extra adapters)
Audi Q5/ A4/ A5 2015-2017 key learning via OBD
Volkswagen/ Audi MQB add key, all key lost via OBD
Volkswagen/ Audi 4th generation IMMO add key, all key lost via OBD
Volkswagen/ Audi 5th generation IMMO add key via OBD
BMW FEM/ BDC key learning & adaption
BMW CAS4/ 3/ 2/ 1 key learning
BMW EW3 key learning (need extra adapters)
2015-2019 Jaguar Land Rover write key via dump
Volvo smart key/ Fobik smart key learning
Volkswagen/ Audi/ BMW/ Benz key unlock (need extra adapters)
OE-level Diagnostics
All systems for over 80 makers
MaxiFlash JVCI (J2534 ECU reprogrammer)
ECU coding
Active test
Oil reset
Parking brake pad relearn after replacement
Steering angle sensor relearn
Battery registration & reset
Diesel particulate filter regeneration
Tire pressure monitoring system
VW/ Audi component protection
Complete service functions
Autel MaxiCOM MK908P Diagnostic Tool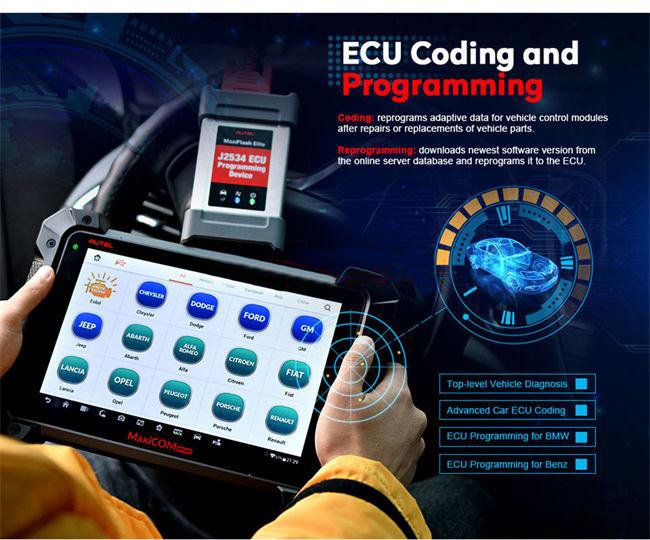 J2534 ECU Programming
It allow BMW & Benz users to replace software/firmware in the ECU, program new ECUs, fix software-controlled drivability issue & emission issues.
ECU Coding, used to re-flash the vehicle control module.
Full Systems Diagnoses
ECU information
Read codes
Erase codes
Live data
Active test
Freeze frame
I/M readiness status
O2 sensor test
Component test
On-board monitor test
30+ Special Functions
Oil reset
EPB service
SAS reset
DPF service
TPMS service
IMMO service
ABS bleeding
BMS reset
Gear learning
And more…
Additional Features
Remote desk
MaxiFix
Digital inspection & MaxiScope
Recommendation
Autel IM608 Pro is designed for locksmiths, which supports most advanced IMMO key programming functions (especially Benz/Audi/VW/BMW/Volvo/GM) for over 80 vehicles. Its full systems diagnoses, ECU coding & special reset functions can also satisfy to work as a basic diagnostic scanner for daily use.
Autel MK908P is suitable for mechanics or technicians who work for car repair shop. Features with ECU coding & programming, full systems diagnoses, 30+ special functions, which provides more professional & advanced help during repair process.