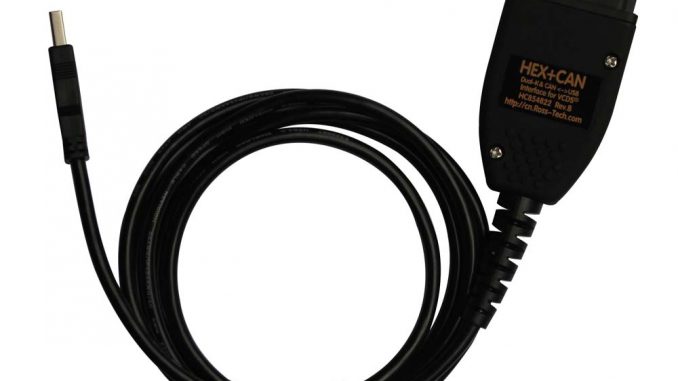 VCDS Interface original plan main work for VW/Audi/Seat/Skoda. Usually you can download the latest version of software from official website ross-tech, because it supports update online. Obdii.shop here provides some error message solutions and the support car list.
VCDS Interface Overview:
1. Software Version: V19.6.2 (support to work with original software)
2. Operate System: Winxp/Win7/Win8/Win10
3. Update Method: Update online, hardware update automatic when work with newer version software.
4. Support Language: Chinese, English, French, German, Russian, Italian, Swedish, Danish, Czech, polish, Dutch, Hungarian, Portuguese, Spanish, Slovenia, Romania.
5. VCDS Interface Order link:
https://www.obdii.shop/goods-49-VCDS-VAG-COM–V196-HEXCAN-USB-interface.html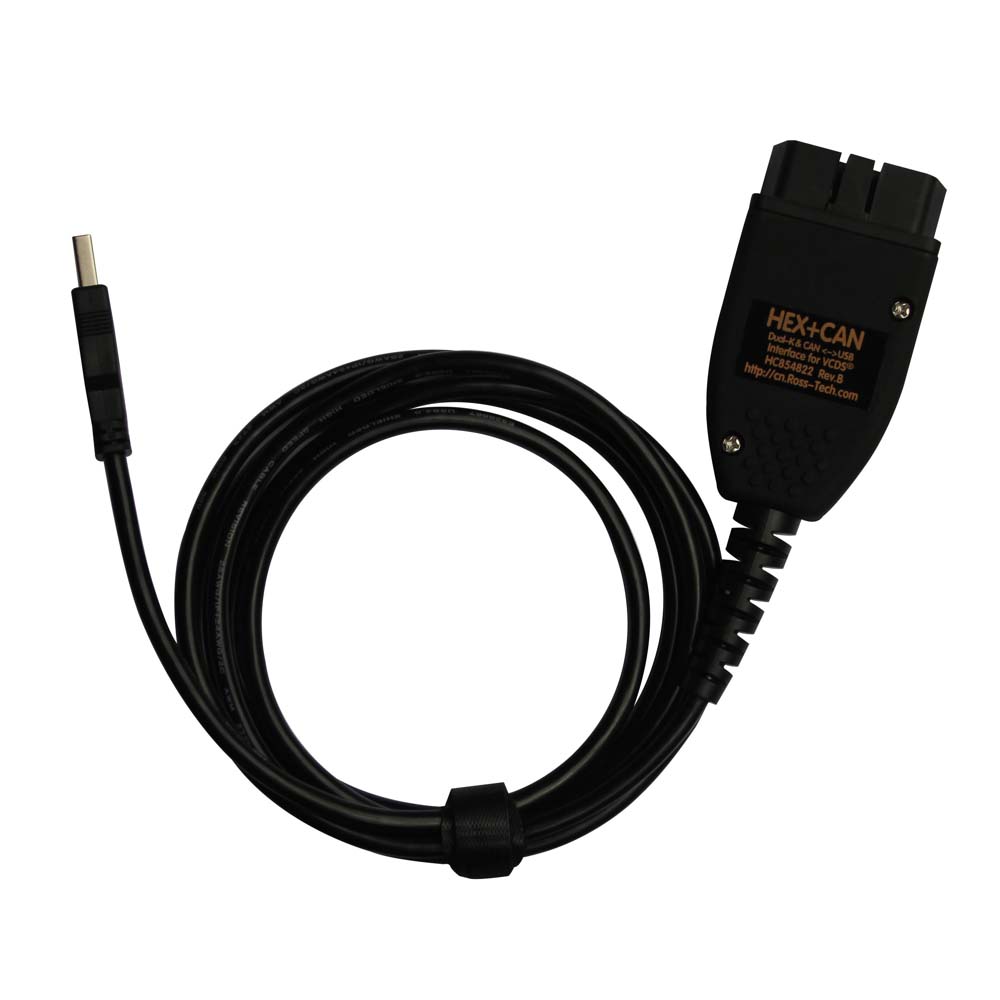 VCDS Interface Errors & Solutions
Error 1. Slow loading! Id Code:(PS:0,CNT:0000000B,ERRC:0)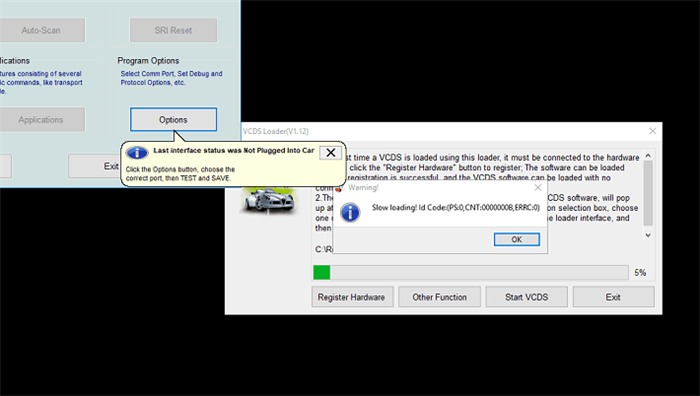 Reason: This error comes out because you didn't choose the "Install 32-bit EXE on 64-bit System" when you install the software.
Solution: Select the choice "Install 32-bit EXE on 64-bit System" as picture below, then reset factory defaults. Then you will not have this problem.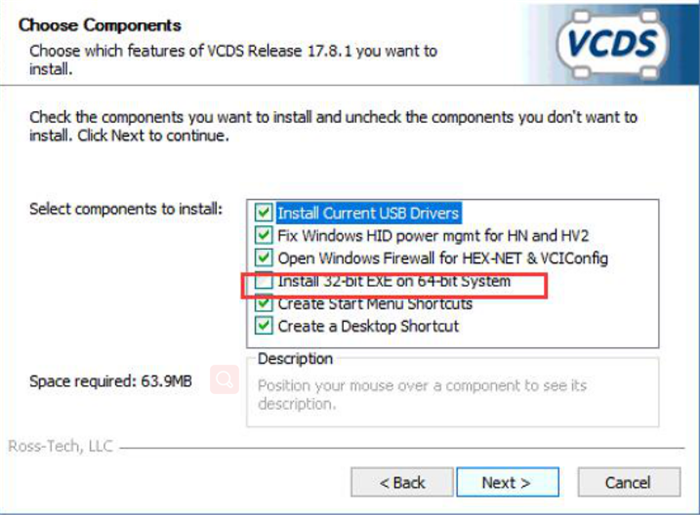 Error 2. License Status Unregistered / Unauthorized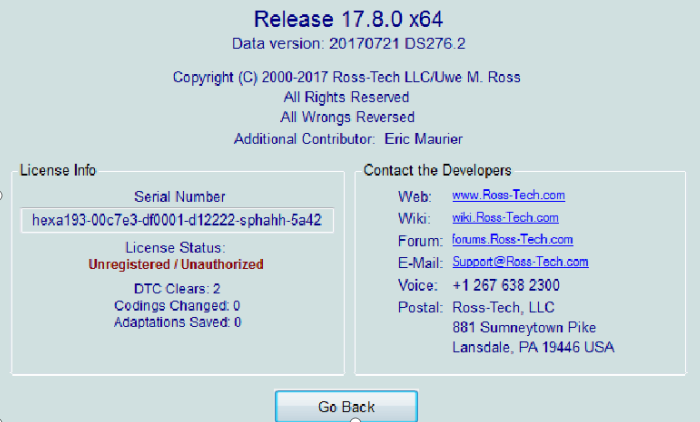 Solution: Reset Default Config.
First, you should start VCDS by VCDS loader. Then if software is in inactivated condition, please choose "Other Function". After start "Other Function", you should connect the VCDS cable to the car or 12V tool. Now you can click "Device Details", then click "Reset Default Config".
After all these steps, you can exit system and re-start the VCDS.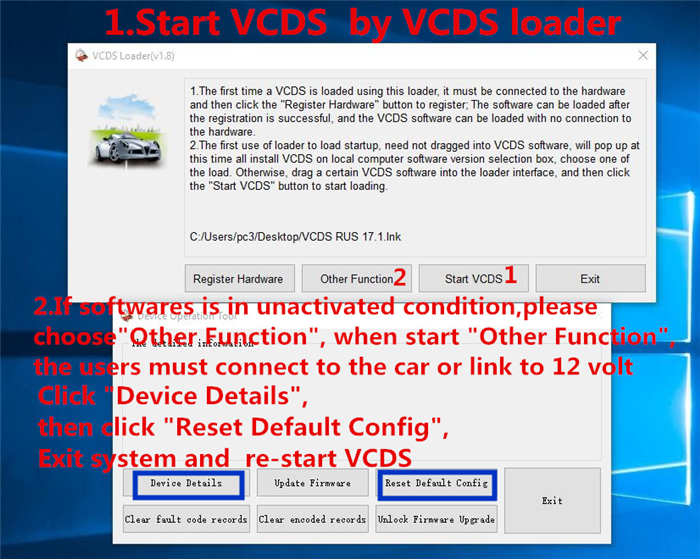 Error 3. Communication Error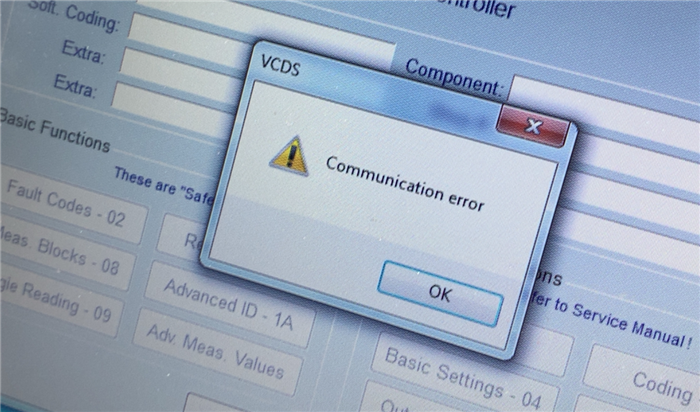 Reason: The software version is latest one and the car is old.
Solution A: Download the latest VCDS loader to work.
Latest VCDS loader link:
https://mega.nz/#!FgBS3I5T!5YpGLzC5WRbup7wQQbKBwtowck54BPc9syehufo4vxw
Solution B: The problem main because of the software version and year of car not compatible. So you can use VCDS Software 18.9.1 for old cars. Latest software version for new cars.
VCDS 18.9 download link:
https://mega.nz/#!nYhD1ABY!RBIwT-rOfBozjMB3NygFWUnlUMEZZAJts3UVvdVCdMM
More questions and problems feel free to contact us for solutions…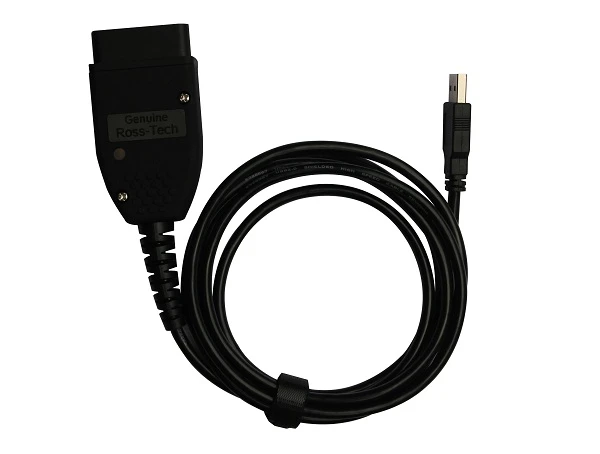 VCDS Interface Original Plan Support Vehicle List
For Audi
Audi 100/S4/S6 (C4) (Chassis code 4A) 1991-1998
Audi 80/90 (Chassis code 8A) 1990-1992
Audi 80/S2 (Chassis code 8C) 1992-1996
Audi A1 (Chassis code 8X) 2011+
Audi A2 (Chassis code 8Z) 2000-2005
Audi A3 (Chassis code 8L) 1997-2005
Audi A3 (Chassis code 8P) 2004-2013
Audi A3 (Chassis code 8V) 2013+
Audi A3 (Chassis code FF) 2015+
Audi A3 (Chassis code FM) 2010-2013
Audi A3 Cabriolet (Chassis code 8P) 2008-2013
Audi A3 Cabriolet (Chassis code 8V) 2015+
Audi A4 (Chassis code 8D) 1995-2002
Audi A4 (Chassis code 8E) 2001-2005
Audi A4 (Chassis code 8K) 2008-2015
Audi A4 (Chassis code F4) 2016+ (May need 2th cable HEX-V2 or HEX-NET!)
Audi A4 (Chassis code FL) 2008-2015
Audi A4 Cabriolet (Chassis code 8G) 1992-2000
Audi A4 Cabriolet (Chassis code 8H) 2003-2005
Audi A4 Cabriolet GP (Chassis code 8H) 2006-2009
Audi A4 GP (Chassis code 8E) 2005-2008
Audi A4L (Chassis code 8K) 2009+
Audi A5 (Chassis code 8T) 2008+
Audi A5 (Chassis code FR) 2008+
Audi A5 Cabriolet (Chassis code 8F) 2010+
Audi A5 Cabriolet (Chassis code FH) 2010+
Audi A6 (Chassis code 4B) 1997-2005
Audi A6 (Chassis code 4F) 2005-2011
Audi A6 (Chassis code 4G) 2011+
Audi A6 (Chassis code FB) 2010-2011
Audi A6 (Chassis code FC) 2011+
Audi A6/A7 (Chassis code 4G) 2011+
Audi A6/A7 (Chassis code FC) 2011+
Audi A6/S6/RS6 (C5) (Chassis code 4B) 1997-2005
Audi A6L (Chassis code 4B) 2000-2005
Audi A6L (Chassis code 4F) 2005-2011
Audi A6L (Chassis code 4G) 2012+
Audi A7 (Chassis code 4G) 2011+
Audi A7 (Chassis code FC) 2011+
Audi A8 (Chassis code 4D) 1994-2003
Audi A8 (Chassis code 4E) 2003-2010
Audi A8 (Chassis code 4H) 2010+
Audi A8 (Chassis code FD) 2010+
Audi Coupe/S2 (Chassis code 8B) 1989-1995
Audi Q3 (Chassis code 8U) 2012+
Audi Q3 (Chassis code FS) 2012+
Audi Q5 (Chassis code 8R) 2009+
Audi Q5 (Chassis code FP) 2009+
Audi Q7 (Chassis code 4L) 2007-2015
Audi Q7 (Chassis code 4M) 2016+ (May need 2th cable HEX-V2 or HEX-NET!)
Audi Q7 (Chassis code FE) 2007-2015
Audi R8 (Chassis code 42) 2007-2015
Audi R8 (Chassis code FG) 2010-2015
Audi R8 (Chassis code FX) 2016+
Audi RS2 (Chassis code 8C) 1994-1996
Audi TT (Chassis code 8J) 2007-2014
Audi TT (Chassis code 8N) 1999-2007
Audi TT (Chassis code FK) 2010-2014
Audi TT (Chassis code FV) 2014+
Audi V8 (Chassis code 44) 1991-1994
For Bentley
Bentley Arnage R / Arnage Red Label 2007-2010
Bentley Arnage RL (LWB) 2007-2010
Bentley Arnage T 2007-2010
Bentley Azure 2006-2010
Bentley Bentayga (Chassis code 4V) 2017+ (May need 2th cable HEX-V2 or HEX-NET!)
Bentley Bentayga (Chassis code ZV) 2017+ (May need 2th cable HEX-V2 or HEX-NET!)
Bentley Brooklands 2009-2010
Bentley Continental Flying Spur (Chassis code 3W) 2005-2013
Bentley Continental Flying Spur (Chassis code ZA) 2005-2013
Bentley Continental GT (Chassis code 3W) 2004+
Bentley Continental GT (Chassis code ZA) 2004+
Bentley Continental GT/Supersports (Chassis code 3W) 2010-2010
Bentley Continental GT/Supersports (Chassis code ZA) 2010-2010
Bentley Continental GTC (Chassis code 3W) 2005+
Bentley Continental GTC (Chassis code ZA) 2005+
Bentley Continental GTC/Supersports Convertible (Chassis code 3W) 2010-2010
Bentley Continental GTC/Supersports Convertible (Chassis code ZA) 2010-2010
Bentley Continental Supersports (Chassis code 3W) 2010-2012
Bentley Continental Supersports (Chassis code ZA) 2010-2012
Bentley Continental Supersports Convertible (Chassis code 3W) 2011-2013
Bentley Continental Supersports Convertible (Chassis code ZA) 2011-2013
Bentley Flying Spur (Chassis code 3W) 2014+
Bentley Flying Spur (Chassis code ZA) 2014+
Bentley Mulsanne (Chassis code 3Y) 2011+
Bentley Mulsanne (Chassis code ZH) 2011+
Ford Galaxy (Chassis code 7M) 1995-2006
For Lamborghini
Lamborghini Aventador (Chassis code ZD) 2012+ (May need 2th cable HEX-V2 or HEX-NET!)
Lamborghini Gallardo 2008-2013 (May need 2th cable HEX-V2 or HEX-NET!)
Lamborghini Huracan (Chassis code ZF) 2015+ (May need 2th cable HEX-V2 or HEX-NET!)
For Porsche
Porsche 911 (Chassis code 99)
Porsche 911 (Chassis code A9)
Porsche Boxter (Chassis code 98)
Porsche Cayenne (Chassis code 92)
Porsche Cayenne (Chassis code 9P) 2003-2010
Porsche Cayenne (Chassis code A2)
Porsche Cayenne (Chassis code AP) 2010-2010
Porsche Panamera (Chassis code 97)
Porsche Panamera (Chassis code A7)
For Seat
Seat Alhambra (Chassis code 7M) 1996-2010
Seat Alhambra (Chassis code 7N) 2011+
Seat Alhambra GP (Chassis code 7M) 2001-2010
Seat Altea (Chassis code 5P) 2004+
Seat Altea GP (Chassis code 5P) 2009+
Seat Arosa (Chassis code 6H) 1997-2004
Seat Exeo (Chassis code 3R) 2009+
Seat Ibiza (Chassis code 6J) 2009+
Seat Ibiza (Chassis code 6K) 1993-2002
Seat Ibiza/Cordoba (Chassis code 6L) 2002-2009
Seat Inca (Chassis code 9K) 1996-2003
Seat Leon (Chassis code 1P) 2006-2013
Seat Leon (Chassis code 5F) 2013+
Seat Leon Cup Racer (Chassis code 5F)
Seat Leon/Toledo (Chassis code 1M) 1999-2006
Seat Mii (Chassis code AA) 2012+
Seat Toledo (Chassis code 1L) 1992-1999
Seat Toledo (Chassis code NH) 2013+
For Skoda
Skoda Citigo (Chassis code AA) 2012+
Skoda Fabia (Chassis code 5J) 2007-2015
Skoda Fabia (Chassis code 6Y) 2000-2008
Skoda Fabia (Chassis code NJ) 2015+
Skoda Felicia (Chassis code 6X) 1995-2001
Skoda Octavia I (Chassis code 1U) 1997-2011
Skoda Octavia II (Chassis code 1Z) 2004-2013
Skoda Octavia III (Chassis code NE) 2013+
Skoda Octavia Ming Rui (Chassis code 1Z) 2007+
Skoda Octavia Ming Rui (Chassis code 5E) 2014+
Skoda PickUp (Chassis code 67) 1996-2001
Skoda Rapid (Chassis code NH) 2013+
Skoda Rapid India (Chassis code NA) 2012+
Skoda Rapid Russia (Chassis code NK)
Skoda Superb Hao Rui 2016+
Skoda Superb Hao Rui (Chassis code 3T) 2009-2015
Skoda Superb I (Chassis code 3U) 2002-2008
Skoda Superb II (Chassis code 3T) 2008-2015
Skoda Superb III (Chassis code NP) 2016+
Skody Yeti (Chassis code 5L) 2010+
For VW
VW Amarok (Chassis code 2H) 2010+
VW Amarok (Chassis code SD) 2010+
VW Beetle (Chassis code 16) 2012+
VW Beetle (Chassis code AT) 2012+
VW Beetle Cabriolet (Chassis code 16) 2013+
VW Beetle Cabriolet (Chassis code AT) 2013+
VW Beetle VORSERIE (Chassis code AT) 2010-2010
VW Caddy (Chassis code 2K) 2004-2010
VW Caddy GP1 (Chassis code 2K) 2011-2015
VW Caddy GP1 (Chassis code SE) 2011-2015
VW Caddy GP2 (Chassis code 2K) 2016+
VW Caddy GP2 (Chassis code SE) 2016+
VW Caddy Kasten/Kombi (Chassis code 9K) 1996-2003
VW Caddy Pickup (Chassis code 9U) 1997-2002
VW Citi Golf (Chassis code 17) 1996-2009
VW Corrado (Chassis code 50) 1989-1995
VW Crafter (Chassis code 2E) 2006+
VW Crafter (Chassis code 2F) 2006+
VW e-Golf (Chassis code AU) 2014+ (May need 2th cable HEX-V2 or HEX-NET!)
VW Eos (Chassis code 1F) 2006-2016
VW Eos (Chassis code AH) 2006-2016
VW Eos GP (Chassis code 1F) 2011+
VW Eos GP (Chassis code AH) 2011+
VW Fox (Chassis code 5Z) 2004+
VW Golf (Chassis code 1J) 2000-2010
VW Golf (Chassis code 1K) 2004+
VW Golf (Chassis code 5G) 2014+ (May need 2th cable HEX-V2 or HEX-NET!)
VW Golf (Chassis code AJ) 2010+
VW Golf (Chassis code AU) 2013+ (May need 2th cable HEX-V2 or HEX-NET!)
VW Golf Cabriolet (Chassis code 1E) 1993-2002
VW Golf Cabriolet (Chassis code 1K) 2012+
VW Golf Cabriolet (Chassis code 1V) 2000-2002
VW Golf Plus (Chassis code 1K) 2005-2009
VW Golf Plus GP (Chassis code 1K) 2009+
VW Golf Sportsvan 2016+ (May need 2th cable HEX-V2 or HEX-NET!)
VW Golf Sportsvan (Chassis code AU) 2014+ (May need 2th cable HEX-V2 or HEX-NET!)
VW Golf Variant (Chassis code 1K)
VW Golf Variant (Chassis code AU) 2014+ (May need 2th cable HEX-V2 or HEX-NET!)
VW Golf/Jetta III (Chassis code 1H) 1992-1999
VW Golf/Jetta IV (Chassis code 1J) 1998-2006
VW Jetta (Chassis code 1K) 2005-2014
VW Jetta (Chassis code AJ) 2010+
VW Jetta IV (Chassis code 2A) 2010-2015
VW Jetta IV (Chassis code 9M) 1999-2015
VW Jetta TDI (Chassis code 1K) 2007-2007
VW Jetta Variant (Chassis code 1K) 2008+
VW Jetta Variant (Chassis code AJ) 2010+
VW LT2 (Chassis code 2D) 1997-2007
VW Lupo (Chassis code 6X) 1999-2006
VW Lupo 3L (Chassis code 6E) 2000-2006
VW Magotan (Chassis code 3C) 2007+
VW New Beetle (Chassis code 1C) 1999-2009
VW New Beetle (Chassis code 9C) 1998-2010
VW New Beetle (Chassis code AG) 2010-2010
VW New Beetle Cabriolet (Chassis code 1Y) 2003-2010
VW New Beetle Cabriolet (Chassis code AL) 2010-2010
VW Passat (Chassis code 31)
VW Passat (Chassis code 3A) 1994-1997
VW Passat (Chassis code 3B) 1997-2005
VW Passat (Chassis code 3C) 2006+
VW Passat (Chassis code A3) 2012+
VW Passat (Chassis code A4) 2011+
VW Passat CC (Chassis code 3C) 2009+
VW Passat CC (Chassis code AN) 2009+
VW Passat Lingyu (Chassis code 9F) 2000-2012
VW Phaeton (Chassis code 3D) 2002-2006
VW Phaeton GP1 (Chassis code 3D) 2007-2009
VW Phaeton GP2 (Chassis code 3D) 2009-2010
VW Phaeton GP2 (Chassis code AP) 2010-2010
VW Phaeton GP3 (Chassis code 3D) 2011-2016
VW Polo (Chassis code 6N) 1995+
VW Polo (Chassis code 6R) 2010+
VW Polo (Chassis code 9N)
VW Polo (86C) (Chassis code 80) 1991-1994
VW Polo Classic (Chassis code 6K) 1996-2010
VW Polo Classic (Chassis code 9N) 2003-2010
VW Polo GP (Chassis code 9N)
VW Sagitar (Chassis code 1K) 2006+
VW Scirocco (Chassis code 13) 2009+
VW Sharan
VW Suran/Spacefox (Chassis code 5Z) 2006+
VW Tiguan (Chassis code 5N) 2008+ (May need 2th cable HEX-V2 or HEX-NET!)
VW Tiguan (Chassis code AX) 2010-2011
VW Tiguan GP (Chassis code 5N) 2012+
VW Tiguan GP (Chassis code AX) 2012-2016
VW Tipo 1 (1600i) (Chassis code 11) 1993-1997
VW Tipo 1 (1600i) (Chassis code 1B) 1998-2004
VW Touareg (Chassis code 7L) 2003-2006
VW Touareg (Chassis code 7P) 2011+
VW Touareg (Chassis code BP) 2011+
VW Touareg GP (Chassis code 7L) 2007-2010
VW Touareg GP (Chassis code A9) 2010-2010
VW Touran (Chassis code 0R) 2016+ (May need 2th cable HEX-V2 or HEX-NET!)
VW Touran (Chassis code 1T) 2003+ (May need 2th cable HEX-V2 or HEX-NET!)
VW Touran GP1 (Chassis code 1T) 2007-2010
VW Touran GP2 (Chassis code 1T) 2011-2015
VW Transporter (Chassis code 70) 1991-2004
VW Transporter (Chassis code 7H) 2003-2010
VW Transporter (Chassis code 7J) 2003-2010
VW Transporter GP (Chassis code 7H) 2010-2015
VW Transporter GP (Chassis code 7J) 2010-2015
VW Transporter GP2 (Chassis code 7H) 2016+
VW Transporter GP2 (Chassis code 7J) 2016+
VW Transporter GP2 (Chassis code SV) 2016+
VW Transporter GP2 (Chassis code SW) 2016+
The car list is from the official website of ross-tech. Some may need the VCDS Hex-V2 cable to work with the models, OBDII.SHOP also have the VCDS Hex-V2 original cable which support online update. If you are interested in, please send inquiry to sales@obdii.shop